1/1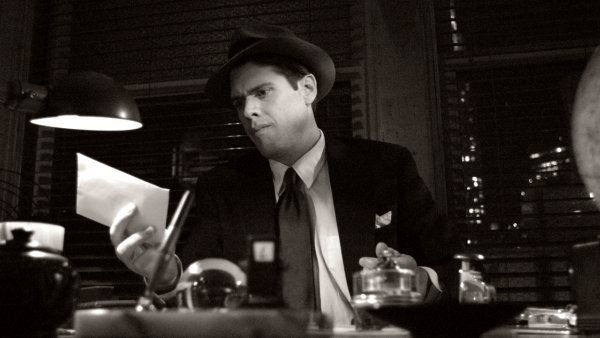 ---
GLASS SUN
East Coast Premiere
United States, 2013, 7 min
Shooting Format:RED
Festival Year:2014
Category:Experimental
Cast:Ben Hunter, Chandra Watson
Crew:Producers: Greg King - Screenwriters: Greg King - Cinematographer: Greg King - Editor: Greg King - Composer: Nick Logie, Ashleigh Allard
Email:cinematic33@yahoo.com
Synopsis
In an experimental take on the classic Film Noir genre, an impeccably dressed detective is visited by a mysterious woman one night, who inspires him to take extreme measures to preserve their 'noir' existence.
Trailer
About the director
Greg is a filmmaker and freelance editor based out of Los Angeles, CA. His film "Glass Sun" won the Grand Prize at the 2013 "On Location" festival, presented by New Filmmakers Los Angeles. His award-winning feature documentary OUR HOUSE (co-directed with David Teague) received its world premiere at Hot Docs, and aired regularly on The Documentary Channel. He directed the 14-part experimental film cycle ROTATING MIRROR in collaboration with the band Rachel's, which received a Jerome Foundation Media Grant. As an editor, his recent projects include the feature A LITTLE GAME (Evan Oppenheimer, director), starring F. Murray Abraham; the documentary FEYNMAN: THE CHALLENGER for the Science Channel; and the PRAYING THE HOURS short film cycle (Lauralee Farrer, director). He is currently working with Laura Gabbert on a feature documentary about food writer Jonathan Gold, and a short to supplement the documentary PARTICLE FEVER, with producer and theoretical physicist David Kaplan.
Filmmaker's note
"Glass Sun" represents the first film I've made since moving to Los Angeles after living in Brooklyn for eleven years. Partially because it reminded me of back east, I set up my office in LA's historic downtown district, where relics of 1940s film noir locations can still be found among the modern skyscrapers. When HOTT MT approached me about a music video project, we discovered a shared passion for the film noir style, so it was only natural to take advantage of the setting I now called home. The main character's office in "Glass Sun" is my own office in fact, and is tucked away in the 1914 Crocker Bank Building. Although I love my new home, the fact that it's sunny year round is in such weird contrast to my life in Brooklyn, that I couldn't help myself; I had to make the sun itself an unlucky 'noir' victim.
Related links