1/1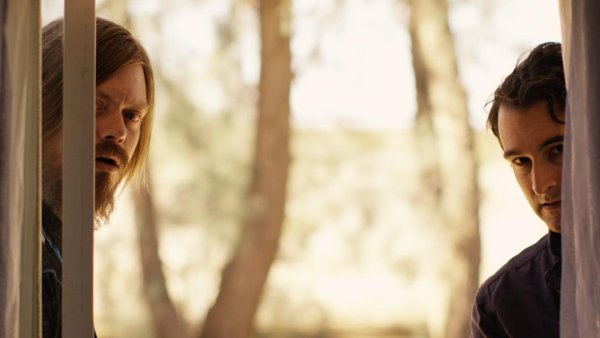 ---
MANSON FAMILY VACATION
East Coast Premiere
Cast:Jay Duplass, Linas Phillips, Tobin Bell, Leonora Pitts, Adam Chernick, Davie-Blue
Crew:Executive Producers: Jay Duplass, Mark Duplass, Samantha Kern, Ray William Johnson, Kaja Martin, Christopher Sepulveda Michael Anderson, Trevor Crafts, Mark Myers - Producer: Steve Bannatyne, Eric Blyler, J.M. Logan, Josh Polon, Matt Ratner, Alexandra Sandler - Screenwriter: J. Davis - Cinematographer: Sean McElwee Editor: Nick Sherman & Dave Boyle - Production Designer: Erin O. Kay - Music: Heather McIntosh - Co-producer: Stephen Kern, Dave Bullock
Synopsis
Nick Morgan (Jay Duplass) has it all: a loving family, a beautiful home and a successful law practice in Los Angeles. His estranged brother Conrad (Linas Phillips) has nothing but a backpack. When Conrad shows up for a surprise visit, all he wants to do in town is go to the infamous Manson Family murder sites. Reluctantly, Nick joins him and ends up on a road trip that leads the brothers into the modern-day world of Charles Manson.
Written and directed by J. Davis, MANSON FAMILY VACATION explores the lives of two brothers: one who's devoted to his family; the other who's obsessed with The Manson Family. Executive produced by the Duplass Brothers, the film also features Tobin Bell (Jigsaw from the SAW movies), Leonora Pitts and Davie-Blue.
Trailer
About the director
J. Davis has worked primarily as a film editor. His editing credits include KEVIN and SOUNDTRACKER. MANSON FAMILY VACATION is his directorial debut.
Related links