1/1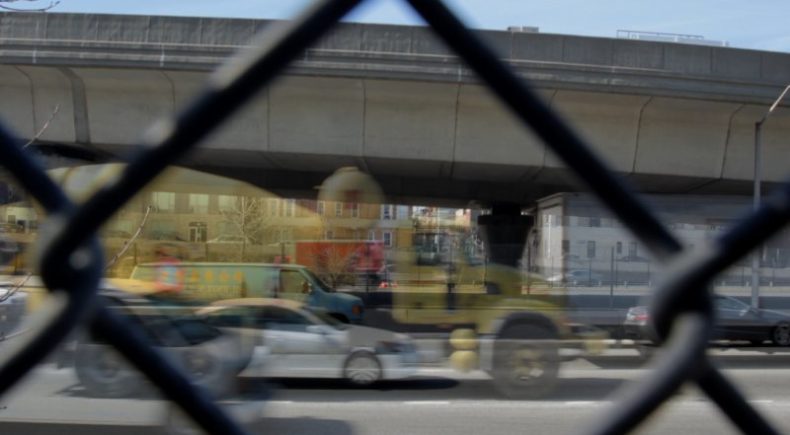 ---
DIVISION AVENUE
World Premiere
Director: Janna Kyllästinen & Anne-Katrine Hansen
Canada, 2014, 13 min
Festival Year:2015
Category:Experimental
Crew:Producers: Alexandra Lazarowich - Cinematographer: Janna Kyllästinen, Anne-Katrine Hansen - Editor: Janna Kyllästinen - Composer: Stanzi Vaubel - Additional Photography: John G. Larson
Email:alex.lazarowich@gmail.com
Synopsis
Division Avenue is an experimental short film about one of the most prominent yet often ignored landmarks of New York, the Brooklyn-Queens Expressway. Examining the architecture and fabric of the highway through poetic imagery and experimental ambient sound recordings, the film reveals traces of lives lived in the shadow of the massive concrete sculpture. Built through densely inhabited neighborhoods, the modernist highway of the controversial city planner Robert Moses reshaped and disrupted the city forever, creating vast non-spaces within once thriving communities. Division Avenue invites the audience to encounter urban landscape in a unique and curious way.
Trailer
About the director
Janna Kyllästinen is a Brooklyn based documentary filmmaker and editor originally from Helsinki, Finland. In her films she combines her desire to tell true stories with a distinct sensitivity for the psychological and the emotional. She holds a Master's degree in political history from the University of Helsinki, and was a fellow at the Union Docs documentary arts collaborative studio in 2013-2014. - Anne-Katrine Hansen is a Danish documentary filmmaker and visual anthropologist. She is interested in how people acquire and express knowledge and make meaning of their experiences. Her films often explore the sensory realms, with special attention to sound. She holds a MA in visual anthropology from The University of Manchester, and in 2013-14 she was a fellow at the Collaborative Studio at UnionDocs Center for Documentary Art in New York.
Filmmaker's note
Division Avenue was born from the sense of astonishment and wonder that three foreign filmmakers had for the urban infrastructure of New York. Influenced by the diverse backgrounds of these recent immigrants, the film is a poetic mood-piece that utilizes psychogeographic filmmaking and essay structure to abstractify an uneventful landscape into a sensory wonderland. The filmmakers' quiet observations of a "non-space" aim to prompt questions of aesthetics and beauty, power and urban planning, and of human life inundated by concrete and metal.
Related links