1/1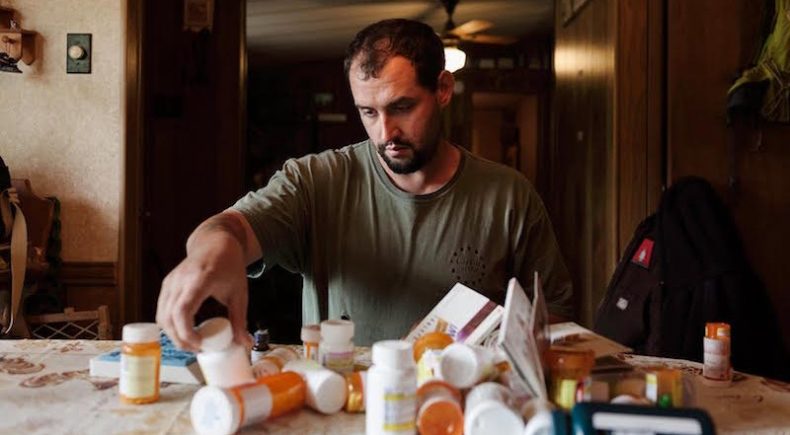 ---
FARMER/VETERAN
East Coast Premiere
Director: Alix Blair & Jeremy Lange
Crew:Cinematography: Alix Blair, Jeremy M. Lange - Editor: D.L. Anderson, Nyneve Laura Minnear - Original Music: Phil Cook - Production Manager: Brooke Darrah Shuman - Executive Producers: Chris Heavner, Eliza Kraft Olander, Philip Shuman - Producer: D.L. Anderson, Mikel Barton
Email:dla@vittles.us
Synopsis
After three combat tours in Iraq, Alex Sutton attempts a fresh start hatching chickens and raising goats on 43 acres in rural North Carolina. Alex embraces life on the farm with his new love Jessica, but cycles between a state of heightened alert and 'feeling zombified' from a cocktail of prescriptions meant to stabilize his injured mind. When Jessica becomes pregnant, the dark past Alex has tried to escape--the loss of his first family, the war he was forced to leave--closes in on him. The farm becomes another battleground. Farmer/Veteran attempts to reconcile the identity of a perfect soldier with the reality of a haunted man determined to hold onto the best chance at peace he's ever known.
About the director
Alix Blair is responsible for a diverse body of work exploring human rights and environmental issues through photography, film and radio production. A recent graduate of the Master's program at the Nicholas School of the Environment at Duke University and recipient of multiple fellowships, including the Duke Center for Human Rights, Blair documented the lives of women in southwestern Uganda for her Master's work. Her audio story The Last Morning Was a Sweet One won a 2013 ShortDoc award from the Third Coast International Audio Festival. FARMER/VETERAN is her first feature-length documentary. @axablair - www.alixblair.com Jeremy M. Lange is a documentary and editorial still photographer whose past long-term projects have focused on kidnappers for hire as well as on returning veterans and the profound effects of the wars in Iraq and Afghanistan upon their families. Past motion work includes the Peabody Award winning television show A CHEF'S LIFE and the documentary film PRIVATE VIOLENCE which won the Award for Human Rights at the 2014 Full Frame Documentary Film Festival. FARMER/VETERAN is the first feature film for Lange. @jeremymlange - www.jeremymlange.com
Filmmaker's note
As civilians, we're part of an increasingly large divide in the perception of who goes into combat and how the legacy of their experience lives on. We may thank them for their service, but we often fail to accept and understand them as they are. In Alex Sutton we encountered a harder, messier truth of how our growing civilian-military disconnect can play out on the other side of that divide. We originally set out to explore the therapeutic potential of agriculture for wounded combat veterans. We met Alex and he was in love—with beginning his farm and with his girlfriend Jessica. That love was contagious and we were excited to tell a story of new purpose and healing; however, as the seasons changed, Alex could not keep ahead of the work or his own demons. Mental health professionals we consulted with cautioned us that recovery from trauma is painfully slow and non-linear, but there was something else impeding our ability to connect with Alex's experience. His stories of the past contradicted with his military records and with his own physical body. Our focus soon shifted to understanding why. The stories we tell ourselves hold a powerful place in trauma recovery—for better or worse. So we made room for Alex's own complicated truth and came to understood far more in return. We believe that by experiencing the nature of one veteran's struggle up close, they can become more relatable across the civilian-military divide. We want this film call out to our social responsibility to Alex—to all veterans returning home—to share in the burden of the long after war. We do this by making time and space to receive their stories, compassionately meeting them wherever they are in their journey.
Notes
Directors Alix Blair and Jeremy M. Lange and Editor D.L. Anderson will be available for Q&A following the June 10 screening at Windmill Studios.Directors Alix Blair and Jeremy M. Lange and Co-Producer Mikel Barton will also be available for Q&A following the June 12 screening at Wythe Hotel.
Related links