1/1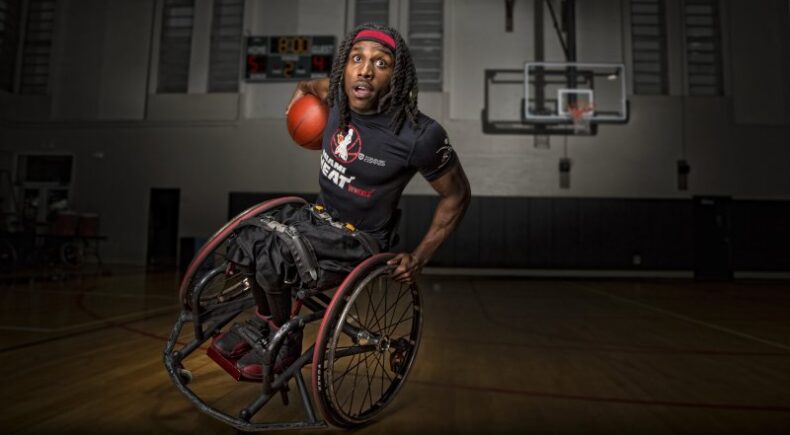 ---
THE REBOUND
NY Premiere
United States, 2015, 65 min
Shooting Format:Digital
Festival Year:2016
Category:Documentary Feature
Cast:Mario Moran, Jeremie "Phenom" Thomas, Orlando Carrillo
Crew:Executive Producers: Nick Nanton and JW Dicks - Producers: Michael Esposito - DP: Shaina Allen - Impact Producer: Chelsea Bond Stuart - Editors: Shaina Allen, Jeremy Bircher - Final Sound Mix and Original Music: Abel Okugawa - Narrative Consultants: Marshall Davis Jones, Brian Gordon - Additional Camera: Chad Andreo, Michael Esposito - Director of Post Production: Nick Nanton - Associate Producers: Josh Felber, Peter D'Arruda, Mikkel Pitzner, Roderick Polston, David Ramirez, John Dyer, Michael Congdon - Assistant Editors: Matthew Turner, Daniel McNew, Brad Teschner
Email:mike@reboundthefilm.com
Synopsis
Miami is a city known for its sports and diversity. For the Miami Heat Wheels it is a city of opportunity, second chances, and a call to win - against all odds. The Rebound is a real account of the Heat Wheels' quest during the year following defeat at the national championships. A story of unwavering resolve and a testament to our innate ability to overcome life's toughest challenges, including those beyond what meets the eye. Like many other community-supported wheelchair basketball programs across the nation, the players push their way through each season - often unsure if they'll have what it takes to make it to the next step. First time filmmakers Shaina Allen (Director) and Michael Esposito (Producer) step deep inside the lives of three players as they endure and respond to adversity. Friends, family, and pride hang in the balance as these men find an extraordinary gift in the hand life has dealt. They hope for an education, a big break, and a new life. The cameras don't stop when the players leave the court: the film follows them through the trials of daily life with a disability. With each victory, the team gets closer to the idea that anything - even a shot at the national championship title - is possible.
Trailer
About the director
Shaina Allen is an emerging female director, DP and editor focused on telling impactful stories with creativity and purpose. Her experience includes documentary filmmaking, editing for sports and news broadcasting, and award-winning lifestyle cinematography. Shaina is Creative Director and Co-founder of Shaina Koren Cinematography.
Filmmaker's note
In a dog park alongside Biscayne Bay, I met a stranger who quickly became a friend. This stranger was the passionate, but frustrated coach of Miami's wheelchair basketball team, Parnes Cartwright. It was Parnes' frustration about funding that led Michael to, unknowingly to me, volunteer me to film the team. The plan was to create a short promo video that would show what this team was really about for grant applications and meetings with potential donors. So it happened, less than a year out of college, I stepped into a community gymnasium in a rough neighborhood of Miami. As I set up my tripod on the baseline, one of the players zoomed by me and yelled "Watch out. We'll run you over". Yikes! The game was fast, the players were passionate - arguing over fouls and celebrating each made shot; then it hit me, this is just like able-bodied basketball. This was not what I was expecting, at all. I was interested, very curious - but it wasn't until I got to know the players that my passion for this team really came to being. When we're kids, we're told not to stare, point or talk about people with differences. As we grow up and become more aware of the world, we involuntarily continue to segregate ourselves. Yet, we continue to look out of curiosity. Hold doors for people in wheelchairs, because that's the proper thing to do, right? We subconsciously wonder why they use a wheelchair, if they can walk, often before we wonder what their name is. When I got to know the guys on and off the court and became a fan of this fast-paced competitive sport, I forgot about the differences, my perceived notions of what it means to have a disability - the feelings that would typically keep me isolated or make me feel uncomfortable. This story has the power bridge this gap for the audience as well. When making this film I wanted to give audiences all over the world a look into the lives of these incredible athletes and show that at the core of all of the challenges we face, whether we have a disability or not, we are all human. The Rebound is a story about three people and their team who continue to face challenges every day, just like the rest of us. It is real. It is human. And my hope is that it inspires you to question your assumptions, open your eyes to something new or to a stranger on the street, question your own perceived limitations, and push to places you may have never believed possible, I know it has done this for me.
Related links