1/1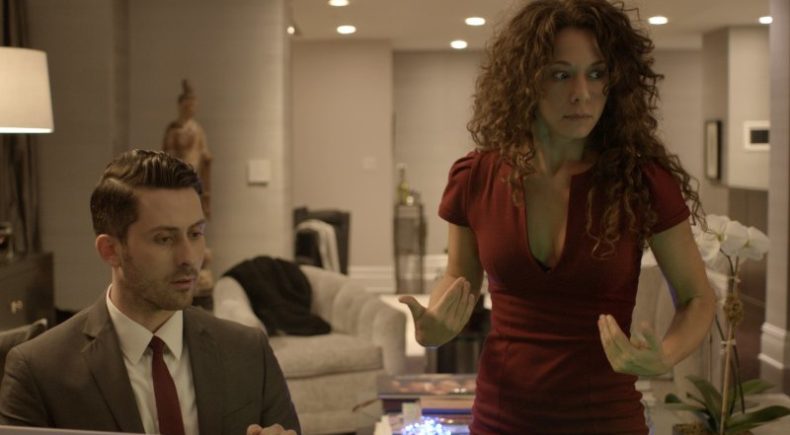 ---
BAD VEGAN AND THE TELEPORTATION MACHINE
World Premiere
Director: Antón Goenechea
United States, 2015, 89 min
Shooting Format:2K
Festival Year:2016
Category:Narrative Feature
Cast:Brianne Berkson, Andy Bean, Tamara Tunie, Steve Hytner, Adam Scarimbolo, Kara Jackson, Adam Mucci, Jay Seals, Frank Pando, Rosalyn Coleman , Tyler Evans
Crew:Producers: Brianne Berkson - Screenwriters: Brianne Berkson, Anton Goenechea - Cinematographer: Markus E. Mueller - Editor: Ismael Gomez III - Composer: John Davis
Email:brianne@teameverlasting.com
Synopsis
Lily, a struggling stand-up comic in NYC, falls for Spike, a childhood geek turned handsome physicist who seduces her, spawning a whirlwind of insanity in which Lily aids in his obsessive pursuit to deliver the ultimate breakthrough in science the world has ever seen: Human Teleportation.
Trailer
About the director
Antón Goenechea started his career as a writer and script doctor, working with several directors and producers, in Spain and Mexico where he was commissioned to direct the webseries ¨Bitacora Anton¨ while working as a director of commercials for brands such as Heineken, Indio, Sol, Microsoft & Cofetel. Upon his arrival to the States, Anton wrote and directed "Miss Mystery," a short film shown in the Long Beach Film Festival and the Coney Island Film Festival. He has co-written two feature films with Mexican director Humberto Hinojosa: "Paraiso Perdido," released in 2016 and "Camino a Marte," to be released in February 2017. "Bad Vegan and the Teleportation Machine" is Anton´s first feature film as a director, and will be premiered in the Brooklyn Film Festival. He is currently developing his second film, ¨Callback,¨ and writing a script for Colombian director Salomon Simhon.
Filmmaker's note
Bad Vegan is a movie about belief, believing no matter what. Believe in yourself and/or in someone else. Believing so much that it can be extremely dangerous. This fascinating subject is presented in every single scene of the movie and we try to address it in a very personal way. Our main characters Lily and Spike believe in their own abilities and talents in the most unconditional way, not ever questioning the consequences of their actions. The complexity of our self-awareness and the way we perceive the world around us is one of the subjects that has always fascinated me. I believe this obsession is an essence of storytelling and what drives the megalomaniacal personalities of many writers and directors, who fantasize about delivering both a communal experience to their audience and a series of personal readings of the work. Additionally, this film unifies the three genres that have influenced me the most: dark comedy, film noir and science fiction. Since childhood I have created sci-fi stories with truly improbable scenarios where characters are forced to confront problems they cannot begin to understand, and from which there is no escape. However my characters never lose a sense of irony, which they tend to use as a shield against what they understand as an oppressive world. Finally, this film has given me an unsuspected gift in the ability to explore the concepts of greed and ideology in modern times, helping me confront and articulate the complexities behind my own belief system. This experience has been profound - emotionally, physically and mentally, and has definitely confirmed my passion for film, storytelling and cinema.
Notes
Director Antón Goenechea and Actor Brianne Berkson will be available for Q&A following both the June 6 and June 9 screenings at Windmill Studios. On June 6 they will be joined by: Adam Mucci Steve Hytner Jackie Stewart Susan Finch Ismael Gomez III Tyler Evans Kara Jackson
Related links