1/1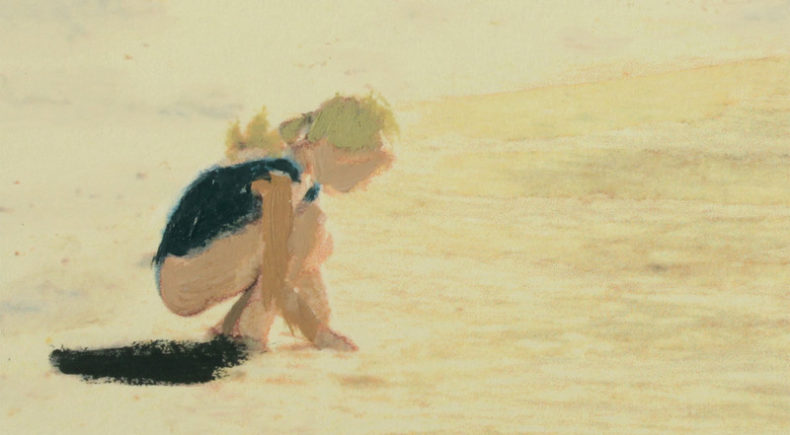 ---
NINA
East Coast Premiere
Director: Emmanuel Elliah & Maria Körkel
Belgium, 2015, 8 min
Shooting Format:HD
Festival Year:2016
Category:Animation
Crew:Producers: Rosa Spaliviero - Screenplay: Emmanuel Elliah - Animation: Maria Körkel - Camera: Frédéric Noirhomme - Editing: Maria Körkel - Supervision Editing: Rudi Maerten, Claus Withopf & Sébastien Demeffe - Sound Design: Adam Bryanbaum Wiltzie - Sound Recording: Déborah Dourneau - Sound Mix: Frédéric Furnelle - Foley Artist: Céline Bernard - Title Design: Rosa Schmieg - Colour Correction: Caroline Nugues
Email:kim@graphoui.org
Synopsis
Six-year-old Nina plays at the beach at the seaside, together with her older brother. Soon after, he abandons his sister to play with another boy. Being left alone, Nina decides to leave the beach and starts to stroll up between the rocks. Nature then becomes the mirror of her enchantment and solitude.
Trailer
About the director
Emmanuel Elliah Emmanuel Elliah (1984) studied photography at Coventry University and graduated in 2005. He then worked for a few years with different productions companies in Brussels as a web designer and assistant producer. In 2011 he started to write NINA. His aim was to develop a subtle story that evoked the sense of wonder present in childhood. He finalised the script during an artistic residency at Abbaye de Fontevraud, during which time Maria Körkel developed the movie's visual style. After several trips to Buenos Aires, Emmanuel began teaching Argentine tango in 2013. In his classes, he transmits to his students the wonder of dance and life. Maria Körkel (1973) studied at the University of Art and Design in Offenbach am Main and graduated in 2001. She was then awarded a DAAD grant and merit scholarship for the Royal Academy of Fine Arts in Brussels to study Comic and Illustration. In 2007, she joined Atelier Collectif ZOROBABEL and took part in animating several stop-motion short films. She completed her Master's magna cum laude in animated film from La Cambre (Brussels) in 2010. Her film Soudain on sonne, a photographic, digitally manipulated cut-out collage, was animated with a multiplane camera and won several prizes. With NINA she translates a childhood memory into an animated painting. Curious about exploring different techniques, combining traditional processes and the use of computer, she creates a distinctive visual universe and artistic design for each project.
Notes
Director and Animator Maria Körkel will be available for a Q&A following both the June 8 and the June 12 screenings at Windmill Studios.
Related links