1/1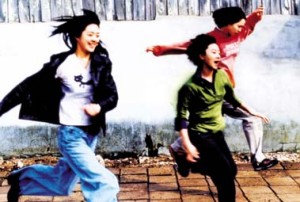 ---
TAKE CARE OF MY CAT
(Go-yang-i-rul Boo-tak-hae)
Korea, 2001, 112 min
Shooting Format:35mm
Festival Year:2002
Category:Narrative Feature
Cast:Bae Doo-Na, Lee Yo-Won, Ok Ji-Young, Lee Eung-Sil, Lee Eun-Ju
Crew:producer: Oh Gi-Min, Masulpiri Pictures - scenario: Jeong Jae-Eun - camera: Choi Yeong-Hwan - editor: Lee Hyeon-Mi - sound: Im Dong-Seok - music: Kim Jin-Cheol
Sales:Cinema Service Co., Ltd.
Email:info@cinemaservice.com
Synopsis
Five girlfriends in their early twenties live in the grim harbour city of Incheon. The core of the group consists of the beautiful but vain Hae-Ju, the artistic Ji-Yeong and Tae-Hee, a rebel. They have just finished secondary school, but are not quite ready for life as mature women. The girls dream of a life abroad, far from the grey city of Incheon. Hae-Ju is the only one with a good job: she works for a stockbroker and has a relationship with an older colleague. When she realises her dream and leaves for an apartment in Seoul, the other girls are left behind, stunned. But the departure of Hae-Ju also has a good side, because without the selfish Hae-Ju, the friendship between Ji-Yeong and Tae-Hee is really able to blossom.
About the director
Jeong Jae-Eun (Seoul, 1969) studied film at the Korean National University of Arts. Before Take Care of My Cat, she made several short films, including Yujin' Secret Codes, with which she won the Grand Prix of the Women's Film Festival in Seoul in 1999.
Related links