1/1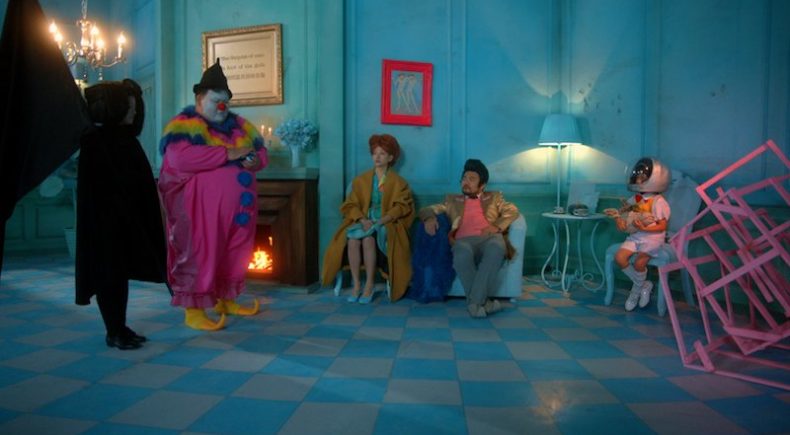 ---
AMBROSIA
World Premiere
China, 2016, 25 min
Shooting Format:HDV, 2K
Festival Year:2016
Category:Experimental
Cast:Chhen Lv, Cai Yinan, Xu Mingze, Qin Yuke, Li Ying, Chai Tao, Lu Xin, Ji Lin, Wang Hongsen
Crew:Producers: Qin Yuke, Chai Tao - Screenwriters: Qin Yuke - Editor: Qin Yuke
Email:yukeqin@hotmail.com
Synopsis
A restless ghost, a suicidal clown, a philosopher who transformed into a golden diamond, a training maniac in the body of a dwarf, a masochistic woman, a doomed mischief gay couple, a family of three living under beautiful mask... This is a Kafkaesque allegory: In the end of the world, the disquiet of men is the food of the gods.
Trailer
About the director
Qin Yuke is a graduate of Academy of Art, Tsinghua University, with a Bachelor of Fine Arts. He also holds a diploma in Contemporary art and new media form the University Paris VIII. After pursuing an academic career in contemporary arts, Yuke directed his first experimental short film, Philomirrophobia I in 2011. Since then Yuke has directed the experimental film Philomirrophobia II in 2012 and the experimental short film Ambrosia in 2015. His work could cross between galleries and cinemas. He participated in many international film festival including Montreal World Film Festival (2012, 2013), Raindance Film Festival (2013, UK) ect. And His films received 3 international awards including Best Underground Film at Kiwi International Film Festival (2015), Award of Excellence at 7th IndieFEST Global Film Award (2015) and Award of Excellence Special Mention at Best Shorts Competition (2015).
Notes
Director Qin Yuke will be available for both the June 5 screening at Wythe Hotel and the June 11 screening at Windmill Studios.
Related links