1/1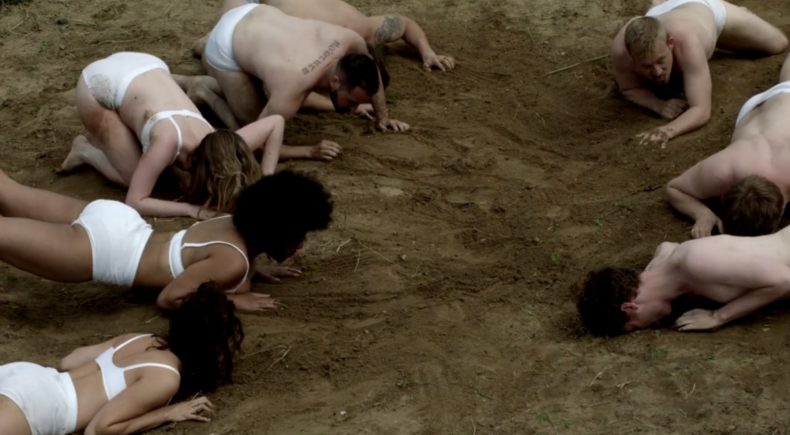 ---
TILL THE SOIL
World Premiere
Director: Christoffer Schunk
United States, 2016, 5 min
Shooting Format:2K
Festival Year:2017
Category:Experimental
Cast:Kestrel Leah, Nathan Nonhof, Danny Wood
Crew:Producers: Christoffer Schunk, Danny Wood, Conor May - Costume: Kim Kyne - Director of Photography: Conor May - Music and Sound: Christoffer Schunk
Email:schunk@chrisschunk.com
Synopsis
Till the Soil portrays struggle and manipulation through a task the actors are required to perform. By tilling a plot of land with their teeth, they deal with themes of repression, loss of control, desire, and confinement. There is a loose love story between the characters. Each tiller has a partner they are trying to reach. Holding them back is their necessity to till and an overbearing gardener manipulating their passage.
About the director
Christoffer Schunk is a multidisciplinary performance artist based in Los Angeles. Much of his portfolio vacillates between film, audio, and theater, resulting in cross-genre productions. His pieces have been featured nationally and internationally at SEAMUS, MUSLAB, the Ars Electronica Forum Wallis Festival, the Iron Composer Competition, REDCAT, Human Resources LA, the wulf and on I Care If You Listen, and have been performed by Conceptual Soundproductions Budapest, Santa Clarita Master Chorale, the CalArts New Century Players, Black House Collective, Ensemble for Contemporary Music, and the UC Santa Barbara Symphony Orchestra.
Filmmaker's note
Much of my work involves including people that want to express themselves in an artistic form but do not. I combat people's insecurities about their art-making abilities by creating platforms in which artistic training holds less value than it traditionally does. To lessen the demand for skills like acting, dancing, or performing dramatically, I'll design tasks for the performers to complete naturally, as themselves. Half of the "actors" in this film had little to no training in the performing arts. I gave them the instruction to till the plot of land with their teeth. If they needed to spit, groan, or do anything else, it would be fine as long as it wasn't forced. No "acting" was allowed. As the shoot continued, I would throw in adjectives like "more aggressive", "louder", and "relax", and they began to act. The highlight for me was the positive response I got from the performers. "Why was that so satisfying?" – Nathan Nonhof (lead role). "Thank you for asking me to do this." – John Flicker (supporting role – first time actor). The cast had a unique and fulfilling experience with each other. Art has always been satisfying for me, but to extend to those who haven't yet experienced it or to bring a new experience to those already familiar with the arts, is a new level of satisfaction.
Related links