1/1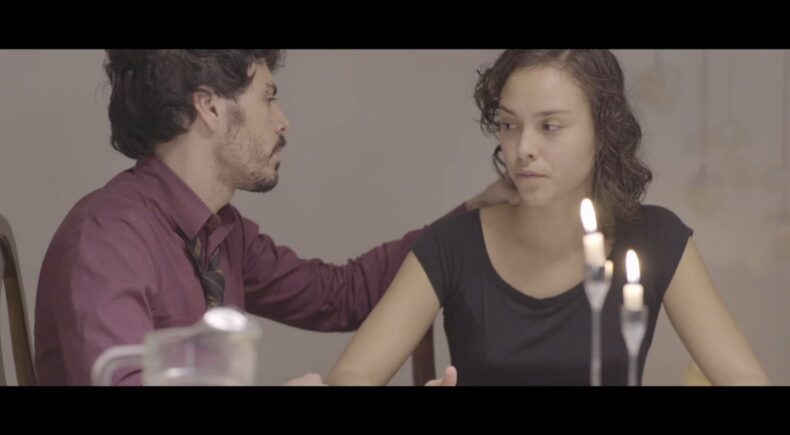 ---
TWO
(DOIS)
World Premiere
Director: Julia McGill & Rodrigo Freitas
Cast:Isadora Borges, Biagio Pecorelli
Crew:Screenwriter: Julia McGill - Cinematographer: Gui Freitas - Acting Coach: Renata Jesion - Editor: Moreira Paulin - First Assistant: Thiago Rodriguez - Camera Operator: Chussei Jukemura - Sound Mixer: Helio Takemoto - Colorist: Bruno Diniz - Art Assistant: Marina Mohr
Email:jumcgill@gmail.com
Synopsis
Nora spends her day preparing a surprise anniversary dinner. Gabriel, her boyfriend, arrives from work tired and annoyed; completely forgetting the special occasion. Despite Nora's best efforts, things only get worse.
About the director
Julia McGill is a New York City born, São Paulo bred writer, director and producer. She attended the Professional Performing Arts High School in Hell's Kitchen and went on to major in Drama and Urban Studies at Vassar College. Since graduating in 2013, she's worked on several independent feature films and produced series for channels including the Travel Channel, Fox and Discovery. She's currently developing a bilingual thriller/suspense feature film, Amarração, with an up-and-coming production company based in Brazil. Two is her directorial debut.
Rodrigo Freitas - A São Paulo native, photographer by trade and lover of simple things by nature. As a child, Rodrigo wanted to be a scientist -- by a stroke of fate, he was unable to get into the school he dreamed of in order to become a biologist and decided to take a year off and make some money while awaiting the next entrance exam. As a result, he ended up in the family business: making movies, commercials and television shows. His father, 5 uncles and 2 cousins were already hard at work in this field. He never imagined that in picking up the family trade, he'd wind up in a world that would inspire him to learn more and more, not to mention become something he now regards as the focus of his career. From working as a PA, to Camera Assistant, to Camera Operator and finally as a Cinematographer and Director, Rodrigo has now spent over 10 years with a camera at hand, with no lack of stories to tell.
Filmmaker's note
The impetus behind Two is the necessity to reflect on relationships. I decided to tell a simple story that was still open to interpretation. Because of this, I hesitate to explain what I think Two is really all about. My biggest joy has been in discovering the nuances and possibilities in the eyes and interpretations of its audience; how, despite its simplicity, it's a narrative that can be taken in in so many different ways.
Notes
Director Julia McGill will be participating in a Q&A after both screenings.
Related links