1/1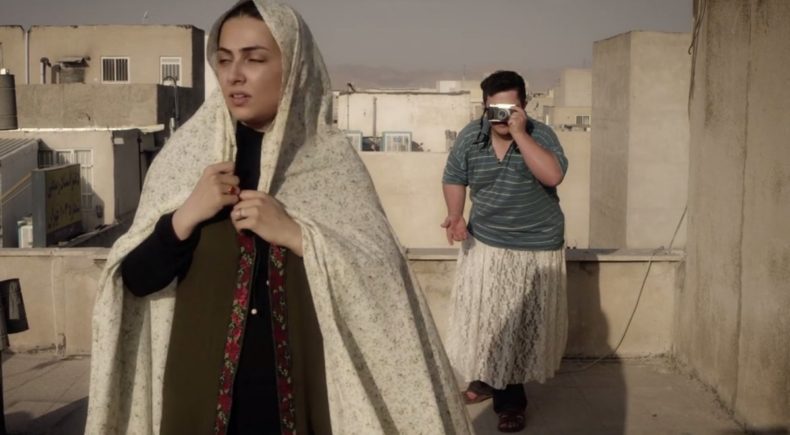 ---
ON THE ROOF
US Premiere
Director: Amirhossein Kotobzadeh
Iran, 2016, 10 min
Shooting Format:RED
Festival Year:2017
Category:Narrative Short
Cast:Hasti Farahi, Sadegh Sajadifar
Crew:Producers: Amirhossein Kotobzadeh - Screenwriters: Amirhossein Kotobzadeh - Camera: Atef Amiri - Editor: Ruhollah Ansari - Sound: Hasan Shabankareh - set & costume designer: Sahar Shahamat
Email:amirkotob@gmail.com
Synopsis
Leila, a beautiful Iranian traditional woman, wants to gather her clothes from a clothes line on the roof of a building in Tehran when an encounter with a stranger holding a camera turns the roof into a photoshoot.
About the director
Born in 1982, Amirhossein Kotobzadeh studied photography for his associate degree before joining a bachelor's program in film editing and currently studying for a master's degree in cinema at the Soore Art University of Tehran. His resume includes photography assistance in a few feature-length movies including Asghar Farhadi's The Salesman. This is his second film, the first one being a music video for Massive Attack's "Live with Me".
Filmmaker's note
On the Roof was inspired by a photo of a woman on a roof and the idea was developed to the relationship between a boy with Down syndrome and an Iranian girl. Sadegh is a 25 years old boy with Down syndrome taking photos at a roof. His camera created a window for me to see his imaginary world in an encounter with Leila. So, I depicted a romantic dream-world from Sadegh's point of view, an unfamiliar world to most of the people who might always strive to reach it, even for a moment. The short film shows short moments of joy in the eyes of people with Down syndrome. I always thought that intuition and imagination cannot be categorized into genres or styles. As someone who always tries to follow his instincts in creating art, I began to work on my first project, a narrative music video for Massive Attack's Live with Me, trying to move in the vicinity and across the borders between realism and surrealism. By the time I began my second project I was confident of my preference to stay in the same abstract area between reality and unreality. The forces that drive such flights of imagination are found in literature, painting, photography, architecture and, above all, music. Music gains more importance when I look at it as a connecting line in my thoughts and works. Just as music and words of Live with Me drove the narrative video I created on music, the images I had in my mind when writing the script for On the Roof and, also, the driving force behind the mise en scenes had mostly come from musical sources of inspiration. The final scene of the short film, with the chador dancing in the wind, was accompanied with music from the very first moment I thought about it.
Related links