1/1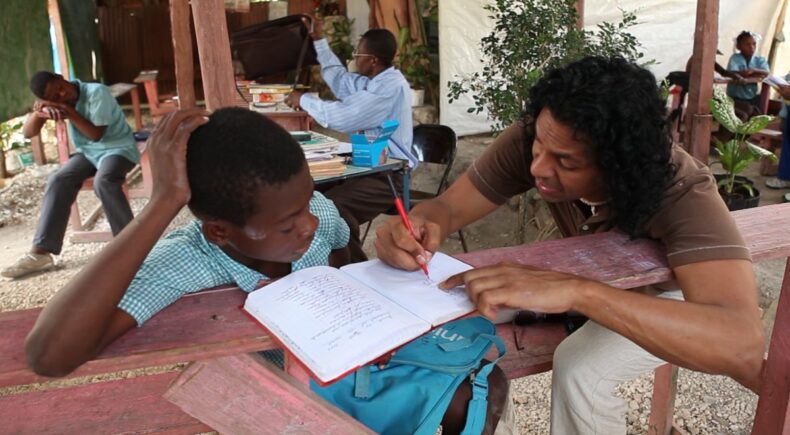 ---
MY NAME IS PEDRO
Director: Lillian LaSalle
United States, 2017, 96 min
Shooting Format:Digital
Festival Year:2018
Category:Documentary Feature
Cast:Pedro Santana, Ms Yvonne Torres, Mimi Santana, Eric Santana, Black Pete, Cassandra Edwards, Aasif Mandvi, Christian Campbell, Isaiah Thomas, Black Thought , Rosie Perez
Crew:Producers: Lillian LaSalle, Jonathan Clasberry, Monica Cohen , Mark Demolar - Editors: Mary Manhardt, Mark Demolar
Email:lillian@sweet180.com
Synopsis
This film explores what public education meant to South Bronx Latino maverick educator, Pedro Santana, and what he, in turn, meant to public education.  Infectious in his optimism, Santana becomes one of the most influential public school teachers and then administrators in the New York public school system after turning his troubled Bronx middle school, MS 391, around. He is unapologetic in his commitment to create change for kids, no matter the odds. When a glowing front page New York Times article catapults him into the spotlight, he is recruited and then accepts a promotion to use his famed 'out of the box' and transformative practices to save a corrupt and divided suburban school district. But the political challenges there may simply be too great, even for the infallible Santana. In order to continue his life's mission that 'every kid can learn', (he himself was labeled 'special ed' as a child), he realizes that he must venture beyond not only the restrictive 'four walls' of the public education system, but also his own neighborhood, city and even his own country. This is a profound story of how one person actualizes learning and positive change in children, adults, environments and communities through an 'impact' ripple effect strategy that he has effortlessly perfected.  'My Name Is Pedro' is an essential and timely reminder of the importance of great educators that exist within the infrastructure of our country's public education system.
Trailer
About the director
First time director, Lillian LaSalle is the recipient of the 2016 Peabody "Futures of Media" Award for Producing the web-series, Halal In The Family, starring Aasif Mandvi, which garnered wide spread media attention for taking on Islamophobia through the use of comedy and parody. The web series received over 580 Million Media impressions. LaSalle is now developing Halal in the Family as an animated series. This series will mark America's first portrayal of a Muslim family on television. Currently, LaSalle feature film producing credits include Todays' Special, which starred Aasif Mandvi, Loggerheads, which premiered in competition at The Sundance Film Festival and Sweet Land, which won the Independent Spirit Award for Best First Feature for writer/director, Ali Selim. LaSalle's other notable feature Producing credits include: Just Like the Son, Find Love, Heavy Petting, and Mentor, as well as Southern Belles and American Cannibal: The Road to Reality. Also as a producer, LaSalle, along with her company, Sweet 180 currently has three features in development: I CAN CHANGE, from writer, Amy Starbin, (Kelly and Cal) the feature film, Doubles, from director David Burris, (The World Made Straight), and OUR LADY OF THE SNOW, from critically acclaimed director, Tom Gilroy. Also in development is feature film, Madcap: The Half-Life of Syd Barrett, about the life of the legendary front man for Pink Floyd, based on the optioned book by the same name. Also in development is LaSalle's follow up feature documentary, THREE BROTHERS, a personal exploration into the her own family, and specifically her three older brothers, who all suffer from severe mental illness. LaSalle is the President of the highly lauded, Sweet 180, a New York based management and production company which she has fiercely grown over the last 20 years. Sweet 180 represents award winning client list of actors, writers, directors and composers. A Brooklyn native and the first generation American of Egyptian immigrants, LaSalle is an honors graduate of the High School of Performing Arts in theatre and an honors graduate of the music conservatory program at The State University of New York at Purchase, where she was the first female student admitted into the classical guitar department. My Name is Pedro will mark LaSalle's directorial debut.
Notes
Director Lillian Lasalle will be available for Q&A after both screenings.
Related links