1/1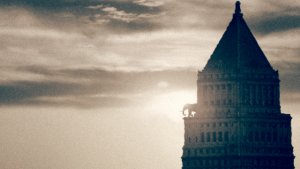 ---
PROTEST
East Coast Premiere
United States, 1999, 2 min
Shooting Format:PhotoShop, 3D Studio Max, After Effects
Festival Year:2000
Category:Experimental
Crew:Director of Animation: Chris Gilligan - Producer: Sandra Miller - Production: Melissa Hill - Animators: Brendon Gallagher, Joe Shaw, John Payne, Max Ehrlich, Eric Borzi, Keith Chamberlin, Max Ehrlieh, Jason Carswell - Cinematography: David Norton - Actors: Craig Adams, Melissa Hill, Russ Dube - Executive Producer: Russ Dube
Email:josselin@pitchinc.com
Web:www.pitchinc.com
Synopsis
A dreamlike meditation on the plight of the elephant whose natural habitat shrinks each year. Set to the recognizable arria from LA WALLY Opera.
About the director
S. D. Katz is a filmmaker/writer and a partner in Pitch Studio, a NYC based production and content company. He is the author of the best-selling books Shot by Shot and Cinematic Motion and also is a contributing editor to Millimeter Magazine.
Filmmaker's note
I did not set out to create a film that had an environmental theme. Protest came about because of a simple image I had of an elephant falling. In working out the narrative it became clear that the conclusion to the story had to be tragic because that is the actual situation for these magnificent animals. In that sense you could say that the design and research process for Protest forced me to extract a more universal message than would have been the case with a project that concentrated on design alone.
Related links