1/1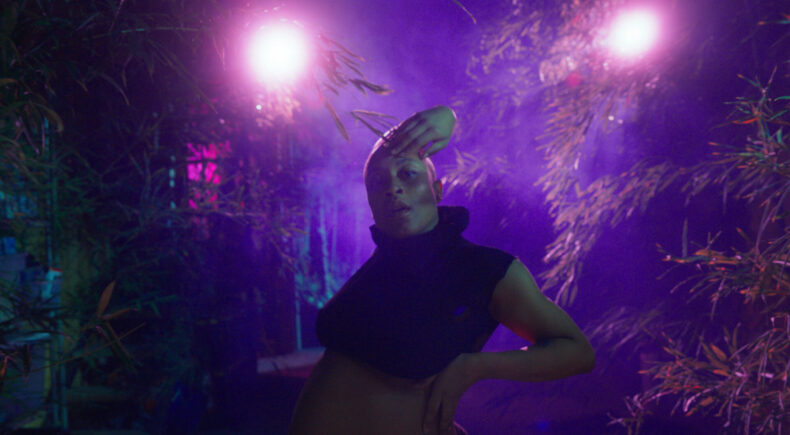 ---
Free Noir Papillon
United States, 2022, 12 min
Shooting Format:ALEXA Mini LF
Festival Year:2023
Category:Experimental
Genres:Experimental, Dance
Cast:PhaeMonae
Crew:Writer: Lev Omelchenko. Producer: Kevin Wall. DP: Amber L. N. Bournett; Gaffer: Landon Kovalick; 1st AC: Valerie Brooks; Steadicam: Kurush Bakhtiari; Key Grip: Hagan Mattingly; Swing: Stephen Dragstedt; Art Director: Magdelena O'Connor; Wardrobe: Marian Austin; PA: Elorm; BTS Stills: Aboubacar Kante; Editor: Lev Omelchenko; Original Score: The Libraries
Email:lev@levomel.com
Web:levomel.com/noir
Synopsis
A short dance film about a mother's relationship to her pregnancy, as she deals with fear and hope about bringing a black baby boy into the world in 2020. The choreography stems from a place of creating sanctuary and learning to accept and find joy in bringing new life in a year full of uncertainty, conflict and strife. Memory of her first pregnancy and labor also influence movement motifs.
Trailer
About the director
Lev Omelchenko is a NYC/ATL based director.

Born in Kramatorsk, Ukraine he immigrated with his family to Brooklyn, NY at age 9. As a filmmaker, he is driven by collaborations with cultural and community laborers whose practice is outside of traditional film industry. His film work spans documentary, narrative, experimental and installation often hybridizing the forms to achieve the unique goals of each project.

Lev's work has been screened at the Prismatic Ground Film Festival (NYC), Cucalorus Film Festival (NC), Maryland Film Festival (MD), Atlanta FF (GA), Sidewalk FF (AL), Tacoma FF (WA), Indie Memphis FF (TN), Indie Grits FF (SC), Roxbury Int FF (MA), Miami Short FF (FL), Kiyv FF (Ukraine), ArtFields (SC), InterFest Denver (CO), Eyedrum Gallery (GA), Whitespace Gallery (GA), Emory University (GA) and in the Hartsfield-Jackson International Airport (GA). He is the recipient of the Film Impact Georgia filmmaker grant, and is a Distinguished Fellow at the Hambidge Center for Creative Arts (GA).

Lev is also the Community Ambassador of The Bakery Atlanta, which is a collective of creative thinkers aligned around social justice principles, environmental concerns, and the belief that art is pivotal to existence. Additionally, he is the Curator of Unicorn Gardens Cinema which brings together gems from the film festival circuit and the most talented and experimental filmmakers in the Atlanta film community.
Filmmaker's note
Phae: "When my son is 20 years old and asks me "mom why'd you name me Free Noir Papillion" I'll say in 2020 there was a pandemic, a civil rights movement and whole bunch of other shit, rise of technology and all of those things needed to live in your name. You are a product of light that comes out of all of that fuckery - that to me is how art is made and how poetry is made.

Those parallels - high celebration and really low low pain. That's what inspires people to make some of the best shit. My best shit right now is making babies and speaking on my personal journey through carrying and caring for them in this time"

Related links