1/1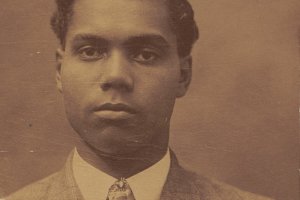 ---
JOE JACKSON'S TRAIL
World Premiere
Director: Lorna Thomas & Eli Kabillio
United States, 2003, 57 min
Shooting Format:DVCam
Festival Year:2003
Category:Documentary Feature
Cast:Hadasha Brock, Victor Morrison, Turanda Morrison
Crew:Producers: Eli Kabillio, Lorna Thomas, Anita Womack - Screenwriter: Eli Kabillio, Lorna Thomas - Editor: Aljernon Tunsil - Cinematographer: David Sperling - Original Score: Martin Trum - Sound: Eli Kabillio, Dave Pruger
Sales:Mad Dog Films, Inc, 19 West 21st St. Suite 503 New York, NY 10010 - T: 212-807-0129 - F: 212-807-0583
Email:eli@maddogfilms.com
Synopsis
Joe Jackson's Trail is a story of courage, perseverance, and will power in the face of all odds. Joe Jackson was born in 1886 in Halifax County, Virginia at a time when African-Americans were legally free, but still feeling the horrors of slavery and the continuing walls of racism, impeding their ability to do the most basic things: to attend school, to own property, to make a living and raise a family. Joe Jackson was born to a former slave and himself worked as a house servant while growing up. He left home at the age of seventeen to work in the coal mines of West Virginia with the intention of saving enough money to return home several years later and buy his own land. Mr. Jackson eventually became one of the largest individual landowners in Southern Virginia at a time when land ownership by African-Americans was uncommon. Mr. Jackson owned a thriving farm and leased land to sharecroppers, both black and white, and continued to succeed during and after The Depression. Mr. Jackson established a school for African-American children on his property, assuring the education of his children and other African-Americans at the height of Jim Crow. This film also examines the history of African-Americans in the South, through the story of Joe Jackson and his family, from 1886 through Joe Jackson's death in 1965.
About the director
Eli Kabillio is an award winning filmmaker having directed F*@K THE DISABLED starring Greg Walloch, Stephen Baldwin, and Anne Meara, and the documentaries A HOLE IN THE HEAD, URINE: GOOD HEALTH and executive produced RELAX, IT'S JUST SEX, starring Jennifer Tilly and produced PARANOIA, starring Larry Drake and Sally Kirkland. Mr. Kabillio also co-directed and produced documentaries FIRST DOWN and JOE JACKSON'S TRAIL, and has recently directed a documentary about the longest running musical, The Fantasticks.
Lorna Thomas is an award winning filmmaker having directed the documentaries VIRTUAL EQUALITY, part of the ITVS series, THE DIGITAL DIVIDE, and co-directed the documentaries FIRST DOWN and JOE JACKSON'S TRAIL. Thomas co-produced IT JUST TAKES ONE, a documentary special, and WALK THIS WAY, both for USA Network's Erase the Hate Public Service Campaign, She executive produced KEEPING IT REAL: THE ADVENTURES OF GREG WALLOCH and has directed and produced more than forty Pepsi Challenge commercials.
Related links