1/1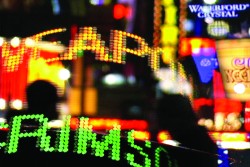 ---
SPRING IN AWE
NY Premiere
United States, 2003, 4 min
Shooting Format:MiniDV
Festival Year:2004
Category:Documentary Short
Crew:Producers:Martina Radwan, Moira Demos - Cinematographer, Screenwriter: Martina Radwan - Editor: Moira Demos
Sales:Martina Radwan - New York, NY - T: 212.254.9507 - F: 212.254.9507
Email:maradwan@earthlink.net
Synopsis
The lights of Times Square have always awed spectators. Over the years the incandescent bulbs of theaters have given way to the fluorescent tubes of advertising. Specificity has been lost as everything becomes generic. In this landscape the news of the war in Iraq becomes just another part of corporate America. Displayed on oversized screens, images of the war become compelling entertainment. Flashing between a toy giraffe and a beer commercial the news of more troops killed loses its scary reality. Shot entirely in Times Square, Spring In Awe examines how the realities and absurdities of the war in Iraq are obscured by the blurring of the lines between news, entertainment and advertising.
About the director
Martina Radwan started her carrer in the film industry in 1887 as an assistant camera in Berlin. In 1995 she moved to New York where she started working as a Director of Photography. Some of her projects include the award winning films 'Ferry Tales', directed by Katja Esson, which was nominated for an Oscar in 2004 and 'Personal Velocity', 2001, on which she was 2nd Camera Operator with Ellen Kuras. In spring 2003, as reaction to the political situation, she put together the idea for Spring in Awe, her debut as a director. Currently she is directing a documentary about immigration policies.
Notes
The director will be available for Q&A after the screening. Producer and editor Moira Demos will also be in attendance.
Related links