1/1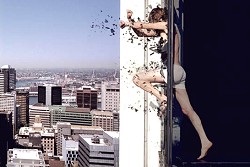 ---
WE HAVE DECIDED NOT TO DIE
East Coast Premiere
Australia, 2003, 10 min
Shooting Format:16mm
Festival Year:2004
Category:Experimental
WINNER: Best Experimental
Cast:Kasia Werstak, Daniel Askill, Jordan Askill
Crew:Producer: Christopher Seeto - Screenwriter: Daniel Askill - Editor: Daniel Askill - Cinematographer: Denson Baker - Original Score: Michael Askill - Sound: Daniel Askill with Sam Dixon
Sales:Collider Design.Film - Double Bay, Australia - T: +612 9363 0219 - F: +612 9363 1978
Email:info@collider.com.au
Synopsis
Three Rituals. Three Figures. Three modern day journeys of transcendence. We Have Decided Not To Die is about a mental state where logic drops away and anything is possible. It is an audio visual narrative that uses sound, stunts and visual effects to create a world where characters float in space and time. Conceived by music video & short film director Daniel Askill and produced by Christopher Seeto through film and design group Collider with The Australian Film Commision, it tells the story of three characters' modern day journeys of transcendence; journeys into a place where death is no longer inevitable.
About the director
Born in Sydney in 1977, Daniel has worked internationally as a director of commercials, short films and music videos. In addition to this his background in music led him to release his first album as composer/producer at 19, while also designing record sleeves and multi media projects. Initially studying design in Sydney and later at Central Saint Martins in London, Daniel was picked up as creative director of London agency Williams before completing his studies. During his time there he helmed a wide variety of projects from web design for infamous fashion star Alexander McQueen to directing his first commercial for the desire fragrance by Alfred Dunhill. This led to more directing work for fashion brands such as Ghost and Rochas, shooting in locations from Africa to the Maldives. In 2001 Daniel returned to Sydney to co-found film & design collective COLLIDER. This has led to directing work for clients such as MTV, Virgin, Warner Music & 2day FM. Through COLLIDER he has also continued to develop a number of other award winning personal film projects; the most recent receiving full funding from the Australian Film Commission. His first locally produced music video for Groove Terminator was recently nominated for 'Best Australian Music Video' at the MTV VMAs in New York.
Notes
The director and producer will be available for Q&A after the screening.
Related links