1/1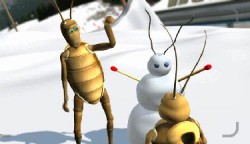 ---
FREE RADICALS
East Coast Premiere
Director: Mahyar Abousaeedi & Ed Chen
United States, 2003, 8 min
Festival Year:2004
Category:Animation
Cast:Sam Yousefian, Neil Kaplan, Andy Parks, Fabrice
Crew:Producers, Screenwriters, Editors, Cinematographers: M. Abousaeedi and Ed Chen - Original Score: Bear McCreary - Sound: Juri Hwang
Email:freeradicalsthemovie@hotmail.com
Synopsis
Dreaming of hot sand, females, and mahi-mahi, three rocky mountain cockroaches enter the extreme ski contest of a lifetime. The only problem is... who has the skills to jump off a 12 foot rooftop. It's the world's first home video filmed by and starring cockroaches.
About the director
Mahyar Abousaeedi is a Colorado native who didn't want to stop skiing the snowy mountains until he received his architecture degree from the University of Colorado at Boulder. Since then, he has moved to California and is slowly learning to surf, however, he has been told at least once to get out of the water. Fortunately, his animation and 3D modeling experience guided him into filmmaking where he is currently completing his thesis film at the USC School of Cinema-Television.
Ed Chen After graduating from UC Berkeley with a degree in Integrative Biology, Ed decided enough was enough and began pursuing his interests in film and animation. He worked for one year as a production assistant at Pixar Animation Studios and applied for graduate school. Ed is currently finishing his second film, Free Radicals, and beginning work on his thesis film, American Dreams. He is working on his MFA in animation at the School of Cinema-Television at the University of Southern California.
Mahyar Abousaeedi & Ed Chen's filmography
Related links