1/1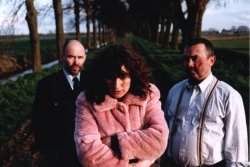 ---
PARADISE
(HET PARADIJS)
US Premiere
Director: Treuniet Maarten
Netherlands, 1999, 75 min
Shooting Format:16mm
Festival Year:2001
Category:Narrative Feature
WINNER: Best Actor Female and Audience Award
Cast:Diane: Renee Fokker - André: Dirk Roofthooft - Hendrik: Peter Gorissen - Harmonia: Rita Wouters - Bert: Vera Boots.
Crew:producer: Monique van Welzen - screenwriter: Mieke de Jong - cinematographer: Wouter Suyderhoud - editor: René Wiegmans
Sales:George van Breemen
Email:george.van.breemen.jr@nps.nl
Synopsis
The life of brothers Adri and Henri is disrupted when Adri wins a photo model, Diane, in a quiz show. Diane is no spring chicken when she comes, and Adri can do what he pleases with her for one month. Henri isn't too happy about Diane, because Adri doesn't do his job anymore. When Diane also behaves like a prostitute at a village wedding, Adri finally agrees with his brother that the woman has to go. Only the milkman's wife defends her, she wants an honorable departure for Diane. However, a controversial discovery is made when the milkman dies, ensuring that Diane stays longer than expected.
About the director
Maarten Treurniet, graduated from the Netherlands Film and Television Academy. He has made several short industrials and is active as director of TV series.
Related links