1/1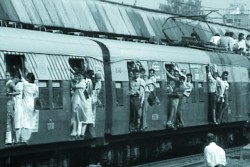 ---
THE 09:24 LOCAL
East Coast Premiere
Director: Dhananjay Kapoor
Cast:Dinesh Lamba
Crew:Dhananjay Kapoor - Editing, Sound Design: Dhananjay Kapoor & Gaurav Deep -
Sales:Dhananjay Kapoor, INDIA - T: +1-973-728-2638
Email:emagyn@rediffmail.com
Synopsis
Over 5 million people commute every day in 2000 suburban ("local") trains in Mumbai. During rush hour, more than 4,500 passengers travel in a single train that has a seating capacity of only 1050 people. The film is an insider's view of the condition of the passengers and how this prevailing condition is vulnerable to terrorism. To portray the reality in the most original way, the film is shot live with the passengers of the 09:24 local from Borivali.
About the director
Dhananjay Kapoor was born in Patna, a city by the Ganges in Eastern India in 1975. Dhananjay came into filmmaking in 1995 and have learned the art while working for various Directors in Mumbai.
Notes
The director will be available for Q&A after the screening.
Related links