1/1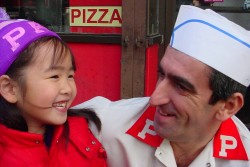 ---
Alphabet Pam & Alphabet Zelda
World Premiere
Cast:Juri Tanaka, Lauren Taibi, Donovan Fowler, Chris Reed, John Dedvukaj, Jihieh Lee
Crew:Producer, Screenwriter: Eva Saks - Editor: Savvas Paritsis - Cinematographer: Ruben O'Malley - Original Score: Kendall Simpson
Sales:Eva Saks - New York, NY - T: 212-995-1367
Email:nyevita@aol.com
Synopsis
ALPHABET PAM is about Pam, who has a passion for the Letter P. ALPHABET ZELDA is about Zelda and Zachary's hunt for the Letter Z.
About the director
Graduate of Yale; getting MFA at NYU. Writer and director for SESAME STREET. Winner, Student Academy Award.
Notes
Alphabet Pam & Alphabet Zelda were done for SESAME STREET. Director Eva Saks will be available for Q&A after the screening. Some members of the cast and crew will be in attendance as well.
Related links