1/1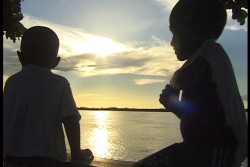 ---
ON THE TRAIL OF THE CAT
(SULLE TRACCE DEL GATTO)
US Premiere
Director: Andrea Caccia & Vittorio Moroni
Italy, 2003, 45 min
Shooting Format:MiniDV
Festival Year:2004
Category:Documentary Short
Crew:Sound: Mario Mariani and Mauro Buttavafa
Sales:GA&A Productions - Rome, Italy - T: +39.06.3613480
Email:mariateresat@gaea.it
Synopsis
In the north-east of Brasil the "fazendas" look for workers to knock down hectares of Amazon forest. For this purpose they use a foreman called "the cat". Those who follow the cat will not find the promised money but a debt which cannot be paid off and a contemporary form of slavery. The documentary is a tale and a journey amid the exploiters (Brasilian and multinational companies) the exploited ones and those who fight.
About the director
Andrea Caccia Born in Novara in 1968, Andrea studied film and painting. He currently lives in Milan.
Vittorio Moroni After his studies in philosophy and film theory, Vittorio received a Master in film from Universal Pictures.
Notes
The director will be available for Q&A after the screening.
Related links