1/1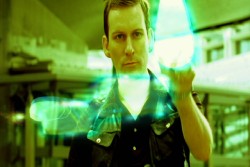 ---
AVATAR
East Coast Premiere
Cast:John Kay Steel, Tony Renshaw, Camille Natta, Karl Wozny, Richard Lyntton
Crew:Producers: Nicolai Amter, Fleur Robinson - Screenwriter: Hyan Thiboutot - Editor: Brian Hovman, Richard Long - Cinematographer: Matthew Woolf - Original Score: Nigel Gomme, Chris Marshall - Sound: Dan Gable, Luke Tennant
Sales:Pixel Generator Limited, London - UK - T: +44 7770 613 703 - F: +44 79 6811 2518
Email:mail@amter.com
Synopsis
LONDON, 2024. Terror strikes at Heathrow Flight Control Tower. An unknown fault with the landing software has stranded nine planes over London. A race against time, our hero John battles to prevent the catastrophe. The virus proves too powerful and Heathrow suffers a horrific air-traffic tragedy. With the help of Jack, John sets out to destroy the virus. Imagine their surprise when they discover their nemesis AVATAR is a beautiful woman with a cruel-set sneer. John soon realizes that he is battling a seemingly unconquerable adversary. The story climaxes on top of Britain's tallest building. John finally discovers the solution to his problem; he has to sacrifice himself to save the world. But not everything is what it seems...
Trailer
About the director
Nicolai has worked extensively both with commercials and music videos in Denmark before moving to London. After many years with MTV UK as promotions director he felt that it was time to jump ship and get his feet wet with directing something that had a duration longer than 30 seconds.
Notes
Director of photography Matthew Woolf will be in attendance.
Related links