1/1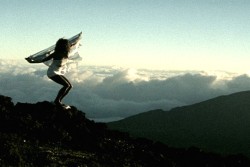 ---
RESCUE?
World Premiere
United States, 2003, 7 min
Shooting Format:16mm
Festival Year:2004
Category:Experimental
Cast:Muriel Hurtado, Maria Shenk, Maximillion Spaluto, Michael Vagabandas
Crew:Producer: Muriel Hurtado - Screenwriter: Michael Abt - Editor: Luis Moreno - Cinematographer: Thomas Marvel - Original Score: Mario Grigorov - Sound: Bradley Warren
Sales:Muriel Hurtado - Brooklyn, NY
Email:murielhh@yahoo.com
Synopsis
We follow the task of a beautiful angel as she guides two lost children from a dark world of industrial confusion into a natural paradise. This metaphorical modern fairy tale cries out above the roar of progress for a breath of fresh air.
About the director
Michael was born in Montevideo, Uruguay in 1969. He's been doing worldwide advertising campaigns for the past 10 years such as jpmorgan chase, danone, cocacola, panasonic, clorests. His first short rescue opens a new door in his carreer as a film director.
Notes
Director Michael Abt, Producer Muriel Hurtado and Cinematographer Thomas Marvel will all attend the screening.
Related links