1/1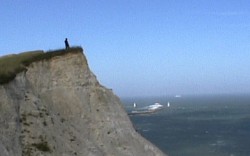 ---
LOVE & SUICIDE
World Premiere
United States, 2004, 128 min
Shooting Format:DVCam
Festival Year:2004
Category:Experimental
Cast:Richard Hagopian
Crew:Producers: Denise Bedrosian, Rene Gabri, Cristina E. Rodriguez
Sales:Rene Gabri c/o Polluted Productions, New York, NY - T: 917-554-9646
Email:renegabri@16beavergroup.org
Synopsis
In Love & Suicide, a filmmaker is asked by a stranger to document his suicide. Part documentary, part fiction, and refusing to be tied to genres, the film begins as a work of invention and ends in the belly of the real. The story centers on Richard, an eccentric, intelligent, but ultimately fatalistic 30-year-old who has decided to end his life. Searching for a perfect ending, this modern day Don Quixote recruits an aspiring filmmaker to record his final minutes. Unable to find a suitable location for Richard's suicide in his "native" Brooklyn, the filmmaker and his subject embark on a journey that takes them from the eerie heights of the World Trade Center to the breathtaking medieval castles of Southern France. Traveling through history, cities, and genres with an ease that is reminiscent of Ross McElwee's Sherman's March, and working the camera like a young Godard, this work of cinema-vérite is sure to stay with you as one of the more memorable, intelligent, quirky suicide videos you will ever see.
About the director
Rene Gabri, Iranian-Armenian, born in Tehran, moved to Athens, then Los Angeles, now based in New York. His solo projects, are largely based around the mediums of film, video, audio and text. He has been exploring a broad range of topics including cities, memory, confession, popular culture, television, music and issues related to in-between-ness and drifting in general. In addition, to his solo projects, he has been involved with and initiated a broad range of collaborative situations and frameworks. At the conclusion of the Whitney Museumís Independent Study Program in 1999, Rene initiated 16Beaver (16beavergroup.org). Since that time he is active in maintaining an ongoing platform and space for independent critical, cultural, political inquiry and friendship. His work with Ayreen Anastas has evolved a great deal through their work at 16Beaver. Their Radioactive Discussion series was a physical counterpart to their fictional Homeland Security Cultural Bureau (hscb.org) project. Together with Erin McGonigle and Heimo Lattner, he also works with the name e-Xplo (e-Xplo.org). Creating projects which often involve mapping, exploring, and developing a vocabulary for particular sites. His work has been screened and exhibited internationally.
Notes
The director will be available for Q&A after the screening.
Related links