1/1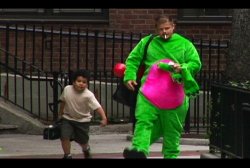 ---
FRIJOLITO, GO!
NY Premiere
United States, 2005, 19 min
Shooting Format:MiniDV
Festival Year:2005
Category:Narrative Short
Cast:Martin Lama Szymanski, Reymond Wittmann
Crew:Producer: Mitch Larson - Screenwriter: Mitch Larson / Tony Mosher - Editor: Brooks Larson - Cinematographer: Paul Colangelo - Sound: Tim Altman
Sales:Tony Mosher, Director - Brooklyn, NY
Email:tony@frijolitogo.com
Synopsis
Quincy is a twenty-something repeat loser. He's got a mile-long rap-sheet of petty, nonviolent offenses but hasn't made any effort to change his ways. When he's busted again, this time for drunk and disorderly, the system has had enough and the powers that be decide to utilize creative sentencing as a last ditch effort to straighten Quincy out. His fate? To work off his community service hours as a party clown in a low-income, government housing complex. Quincy does his best to walk the high road but his intentions are tested when he reluctantly befriends a young Hispanic boy who's being abused by his alcoholic father. A sexy single mom Quincy is falling for further complicates a climactic decision that may change his life forever.
About the director
Tony 's student film, It's Educational, won the Best Short Film Award at the West Palm Beach Independent Film Festival. He then gave up plumbing to move to New York City to pursue a film career. After waiting tables, temp work, and internships, he spent four years working in the development departments of The Shooting Gallery, and Miramax Films eventually landing in the office of writer/director Paul Schrader. He currently lives in Brooklyn, New York.
Notes
Director Tony Mosher will be available for Q&A after the screening.
Related links