1/1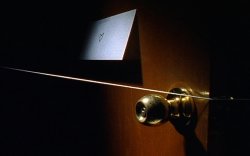 ---
STRING
United States, 2003, 4 min
Shooting Format:16mm
Festival Year:2005
Category:Experimental
Cast:Pamela Devlin, Chris Ferry
Crew:Producer: Natasha Lunn - Screenwriter & Editor: Kevin Watkins - Cinematographer: Kevin Watkins & Ben Starkman - Original Score: Chris Pefanis - Sound: Frank Verderosa
Sales:Kevin Watkins, Director - Brooklyn, NY
Email:public@watkinsworldwide.com
Synopsis
A broken relationship, a shotgun and a long piece of string. Could this be the perfect revenge? Shot in the style of Hitchcock's Rope.
About the director
After successfully pulling himself free from the undeniably strong tug of the Advertising Black Hole, Kevin Watkins has launched a career as a filmmaker. String is the first evidence of this fact - subsequently followed by an adaptation of a Dorothy Parker short story.
Notes
Cast and crew will be available for Q&A after the screening.
Related links