1/1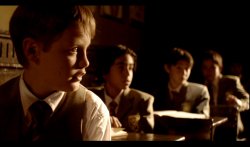 ---
MANTRA
US Premiere
Mexico, 2004, 10 min
Shooting Format:35mm
Festival Year:2005
Category:Narrative Short
Cast:Juan Carlos Colombo, Monica Huarte, Jorge Angel Toriello, Mario Quintero
Crew:- Producers: Milko Luis, Juan Pablo Bastarrachea - Screenwriter: Arcadi Palerm - Editor:Carlos Vizcaino - Cinematographer:Alexis Rodil - Original Score: Andres Sanchez - Sound: Antonino Isordia, Salvador Felix
Sales:Alexis Rodil, Executive Producer c/o Mal-Entendido - Tlalpan, Mexico D.F. - T: 55 19984028 - F: 55 52738611
Email:alexisrodil@mac.com
Synopsis
Martin Mantra has developed his own strategies to overcome fear. He jumps into the emptiness. MANTRA the moment when two brothers in arms meet. A sacred moment.
About the director
Born in Taxco in the early seventies, lives and works in Mexico City.
Notes
Filmmakers will be available for Q&A after the screening.
Related links