1/1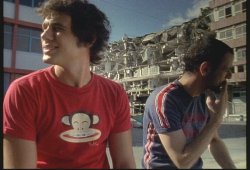 ---
CRICKETS
US Premiere
Director: Matan Guggenheim
Israel, 2004, 16 min
Shooting Format:16mm
Festival Year:2005
Category:Narrative Short
Cast:Lior Perl, Yoav Yefet, Romy Abulafia
Crew:Producer: Maya Mnor - Editor: Guly Zilberstein, Matan Guggenheim, Yuval Shaferman - Cinematographer: Ofer Dory
Sales:Matan Guggenheim, Director - Tel Aviv, Israel, - T: +972-0505767256
Email:matangu@yahoo.com
Synopsis
After his parents are killed in a terrorist attack, Ido is forced to deal with his trauma in unconventional ways as he fights to maintain his sanity in a world closing in on him.
About the director
Brooklyn Film Festival alumni Matan Guggenheim is an Israeli filmmaker who, unfortunately, is not related to the Guggenheim Museum. He was born in Jerusalem in 1977 on his father's birthday. In 1999, after three years of weird, ludicrous, intense, crazy and pointless obligatory military service as a combat fighter in the Israel Defense Forces (IDF), he went on to fulfill his Sisyphean destiny by studying cinema at Tel Aviv University. His controversial graduating film "Crickets" dealt with people gambling on terrorist attacks, and won numerous festival prizes including Best Short at the 2005 Brooklyn Film Festival, as well as a special prize from the UN for best political movie at the New York Film Festival, and was exhibited in more than 70 film festivals around the globe. "Paradise Cruise" is his first feature film.
Matan Guggenheim's filmography
Notes
Director Matan Guggenheim will be available for Q&A after the screening.
Related links