1/1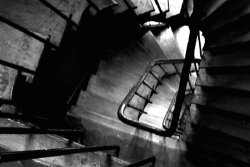 ---
HELIX
US Premiere
France, 2004, 15 min
Shooting Format:DVCam
Festival Year:2005
Category:Experimental
Cast:Liz Young, Benedicte Leclerc, Marie Pinguet
Crew:Producers: Blank Films, Les Productions du Sommeil, Formicoleo, Ephemeral Ink - Editor: Stephane Collin & Benedicte Leclerc - Cinematographer: Sephane Collin - Original Score: Arnaud Samuel - Sound: Bernard Roelandt - Choreographer: Liz Young - Sound mixing: Stephane Kim
Sales:Eric Salemi, Producer c/o Blank Films - Biarritz, France - T: +335 59 235 912 - F: +335 59 235 912
Email:blankfilms@free.fr
Synopsis
In a long, labyrinthine corridor a woman wanders, guided only by her sense of confinement. Within the boundaries of this uninhabited architecture she traces a confusing, circular itinerary. Spiralling around herself, she is forced to retreat inside in order to see a way out.
About the director
Born in 1970, Frank Richard studied film and television in Paris. Brought up on rock music, thriller novels and alternative cinema, he wrote several screenplays and worked as an actor. He made his filmmaking debut in 2000 while continuing to write articles on visual artists and photographers. Since 2002, he has collaborated on filmic objects, blending cinema and choreography, with young french and foreign choreographer. Today, Frank Richard always lives and works in Paris, he is writing screenplays for cinema.
Notes
Director Frank Richard will be available for Q&A after the screening.
Related links