1/1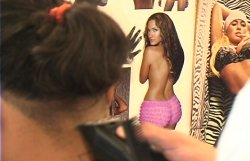 ---
WET DREAMS AND FALSE IMAGES
Director: Jesse Erica Epstein
Cast:Dee-Dee the Barber, Goose, Raid, Thomas, Ken Harris, Domenic Demasi
Crew:Producer: Jesse Epstein - Editor: Joshua Bee Alafia, Dan Katz, Jesse Epstein - Consulting Editor: Sam Pollard - Cinematographer: Alan Jacobsen, Tracey Gudwin, Jesse Epstein - Sound: Lara Hanna
Sales:Karen Knox, c/o New Day Films - Harriman, NY - T: 888.367.9154 - F: 845.774.2945
Email:orders@newday.com
Web:www.newday.com
Synopsis
Dee-Dee, a Brooklyn barber, covers his wall with magazine cut-outs of women. He wishes that real women could look more like the images on his "wall of beauty." However, when Dee-Dee is introduced to the art of photo-retouching, his perceptions of beauty are called into question. Wet Dreams and False Images uses humor to raise serious concerns about the marketplace of commercial illusion and unrealizable standards of physical perfection.
About the director
Jesse received an MA in documentary film and gender studies from NYU. She has directed, produced, field produced, and filmed documentary projects nationally and in Africa, India, and the Netherlands. She founded a youth video program in Manhattan's Lower East Side. Jesse has also worked with the International Rescue Committee and Global Action Project to produce film projects with refugee youth, and recently lead the Sundance Institute's Reel Stories documentary film lab for teenagers.
Notes
Director Jesse Erica Epstein will be available for Q&A after the screening.
Related links