1/1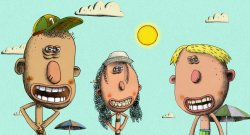 ---
BANQUISE
US Premiere
Director: Claude Barras & Cedric Louis
Switzerland, 2005, 7 min
Shooting Format:35mm
Festival Year:2005
Category:Animation
Cast:Eleonora de Sousa (voice)
Crew:Producer: Claude Barras, Helium Films - Screenwriter: Cedric Louis - Editor: David Monti - Sound: Raphael Sommerhalder - Music : Julien Sulser
Sales:Claude Barras c/o Helium films - Geneva, Switzerland - T: +41 78 620 59 69
Email:claude@electronlibre.ch
Synopsis
Marine, an obese young girl, suffers from the way other people look at her and from the heat of summer. She dreams of a better life among the penguins on an ice floe...
About the director
Cedric Louis was born in Belgium the 4 december 1970. After a bachelor in history and esthetique of cinema at the University of Lausanne, he studies at the Arts of Diffusion Institut in Louvain-La-Neuve.
Claude Barras was born in Sierre, Switzerland, the 19 january 1973. After a bachelor in drawing at the Emile Cohl scool of Lyon, for the past two years he has been studing computer animation at the Ecal of Lausanne.
Related links