1/1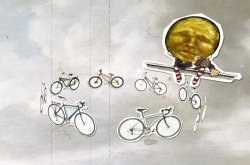 ---
YELLOW BIKE
NY Premiere
United States, 2004, 2 min
Festival Year:2005
Category:Animation
Cast:Beck, A Yellow Bike, Steve Zissou
Crew:Illustrations by Jeremy Bronson and Rachel Max
Sales:Rachel Max, Director - New York, NY - T: 347.563.7609
Email:rach@rachelmax.com
Synopsis
Someone stole my Bike... I hate them.
About the director
Rachel Max has been animating professionally for six years and has been screening her work in festivals since 1999. Currently a freelance designer in NYC, she is determined to animate her life events, no matter how mundane. Hopefully someone will listen. Max is originally Irish, born and raised in Dublin, but has considered herself fully assimilated to American culture since watching "Pee-Wee's Big Adventure" on video in 1997.
Notes
Rachel Max will be available for Q&A after the screening.
Related links