1/1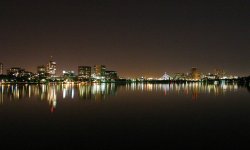 ---
NIGHTLIGHT
NY Premiere
United States, 2005, 10 min
Shooting Format:Digital Stills
Festival Year:2005
Category:Experimental
Crew:Producer: Chris Messina
Sales:Chris Messina - Boston, MA - T: (607)765-5329
Email:cmessina@bu.edu
Synopsis
An experiment in digital photography exploring the nights and lights along the Charles River in Boston. This film is made up entirely of still photographs sequenced together to appear in motion. By making subtle adjustments between each photograph taken, the lights of the city seem to come to life.
About the director
Chris is currently finishing an MFA in Film Production at Boston University. His first semester production, MELO, was awarded first place in the 2004 Eastman Scholars Competition. Nightlight recently earned him honors as "Most Promising New England Filmmaker" at the 2005 Boston Underground Film Festival.
Notes
Director Chris Messina will be available for Q&A after the screening.
Related links