1/1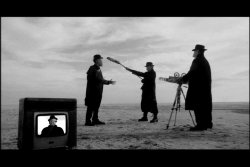 ---
FACECHASERS
World Premiere
Director: Gabriel Judet-Weinshel
United States, 2005, 4 min
Shooting Format:Super 16
Festival Year:2005
Category:Experimental
WINNER: Best Experimental
Cast:Zach Wegner, Chiara DeLuca
Crew:Producer: Matt Parker - Original Score: Wibutee
Sales:Matt Parker, Producer c/o Lasalleholland, 141 West 28th Street, STE 300 - New York, NY 10001 - T: 212-541-4443 - F: 212-563-9655
Email:matt@lasalleholland.com
Synopsis
A man and a woman are chased through a bleak desert by faceless creatures and animated attack dogs. In the pursuit, one of them loses his life and one conceives an ingenious and surreal way to escape.
About the director
Born in 1977, Gabriel Judet-Weinshel began making films and music at age six. His work - which he writes, directs, edits, and scores - has been shown, among many other venues, at the San Francisco International Film Festival, the Newport Beach Film Festival, the New York IFP Market, the Northwest Film Festival, the American Film Institute, as part of an event at the Sundance Film Festival, and on Nickelodeon, the Trio Network, Fox and MTV. At age twelve, he was hired to shoot, edit, and direct a documentary on a feature film made in the northwest, Edge of Honor. He has taught filmmaking at Wavy Gravy's circus and performing arts camp, Camp Winnarainbow. Past nominations include a Rockefeller Fellowship and the Sundance Lab. After five years of development, Gabriel made The Broken Wing of Elijah Footfalls in the fall of 2001. This was an official selection at the Newport Beach Film Festival, the SilverLake Film Festival, and the Dubrovnik International Film Festival in Croatia, although many people told him it was too long and too weird. At the New York IFP Market, Footfalls was among four finalists for the Buzzcuts Award by Sundance Channel. The Sundance Channel was about to buy it, but then told him it was too long and a little too weird. In addition to directing, Judet-Weinshel has worked as a cinematographer on other people's films, including Mamita Chula and Dat Nigga and Samurai Dream, the latter winning a Cine Eagle Award. He has worked on documentary crews for the National Puppetry Conference (recently this otherwise useless experience led to the creation of his very own paper mache attack dog) and the Center for Disease Control. He co-directed a spec documentary on subway musicians for the prestigious Mad River Post. Quite recently, Gabriel brushed shoulders with Martin Scorsese when he directed Marty in a short tribute for the actor Victor Argo that screened at Lincoln Center. These days, Gabriel maintains an ongoing relationship with Gill Holland's sonaBLAST! shooting a series of music videos for the Irish songwriter Mark Geary (the first of which has already playing nationally in Ireland and on Trio) and LasalleHolland, a managerial and production company. He is also in the process of making a video for One Ring Zero, a NY-based act whose recent album, "As Smart As We Are," sets to music words by New York writing luminaries Paul Auster, Margaret Atwood, Rick Moody, and Dave Eggars. He is currently serving as a filmmaker in residence at Mad River Post, shooting a series of short films for the commercial company. Some involve him being naked in Williamsburg. His feature movie, LOVE SONGS FOR THE APOCALYPSE, is in development with LasalleHolland and involves elephants swimming across the ocean and a sound gathering machine to save the world.
Notes
Director Gabriel Judet Weinshel, Producer Matt Parker and actress Chiara DeLuca will be available for Q&A after the screening.
Related links