1/1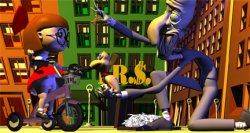 ---
JOYRIDE
NY Premiere
United States, 2005, 5 min
Festival Year:2005
Category:Animation
Crew:Producer: Out of Our Minds Animation Studios - Screenwriter: John Cernak - Editors: Danny Oakley & Leigh Jurney - Storyboards & Illustrative Director: Keith Hobgood - Modeling: Rebecca Jones - Animation: Danny Oakley & Derek Cernak - Adminstrative Director: Lori Cernak - Modeling Artists & Animators: Matt Thurber & Dennis Nikolaidis - Music: "Bicycle Race" by Freddie Mercury and Performed by Queen. Used Courtesy of Hollywood Records and EMI Music Publishing. - Music: "America the Beautiful" All copyrights, licensing, duplication, and distribution rights are held exclusively by Music Bakery Publishing (BMI)
Sales:Lori Cernak, Administrative Director c/o Out of Our Minds Animation Studios - 864 West 4th Street, Winston-Salem, NC 27101 - T: +1 (336) 724-1803 - Fax: +1 (336) 724-1804
Email:lori@outofourmindsstudios.com
Synopsis
What "THE MAN" wants, "THE MAN" gets... and if you don't pay attention it will all go by in the blink of a sound bite! Hundreds of channels, remote control, all-day news, special alerts, on-screen ticker tapes, snippets and sound bites, spin, slant, warnings, precautions, 24 hours, 7 days a week of 2-second at a time filtered information overload. Are we becoming a "don't let them think while we take advantage of the situation" society or are we just waiting to take the train into our own hands?
About the director
John Cernak: Prior to becoming a digital animator, his professional career was that of an award-winning graphic artist, proficient in graphic design, photography and illustration. These traditional art skills have allowed for an understanding of composition, lighting and image-based story telling, which now serve as the foundation of his animation career.
John Cernak's filmography
Notes
Illustration Director, Keith Hobgood will be available for Q&A after the screening.
Related links