1/1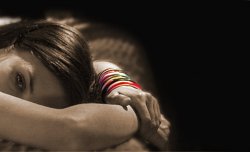 ---
YOU ARE ALONE
World Premiere
United States, 2005, 84 min
Shooting Format:MiniDV
Festival Year:2005
Category:Narrative Feature
WINNER: Best Actor Female
Cast:Jessica Bohl, Richard Brundage
Crew:Producers: Frank Loftus, Gorman Bechard - Screenwriter: Gorman Bechard, with additional dialog by Jessica Bohl - Editor: Gorman Bechard, Frank Loftus - Cinematographer: Kenneth Wilson - Original Score: featuring songs by Tywanna Jo Baskette - Sound: Matthew Ryan
Sales:Gorman Bechard c/o What Were We Thinking Films, PO Box 6260 Hamden CT 06517 - USA - T: 203-287-0728 - F: 203-287-9086
Email:youarealonemovie@aol.com
Synopsis
"We're gonna play a game of Snap! Pick a bracelet. Pull it hard!" But it's a game of desperate consequences in YOU ARE ALONE, a dark exploration of just how far a man and a woman will go to escape loneliness, if only for an hour. Daphne, a Yale-bound high school senior whose depression has blurred her sense of reality, works as an escort, advertising her services online. It's a little bit of a "fuck-you" that helps get her through the day, until her next door neighbor catches her as the "entertainment" at his nephew's bachelor party. With her hidden life precariously hanging in the balance, Daphne agrees to spend one hour with her neighbor. Initially confrontational, Daphne and her neighbor begin to shed their bitter layers of personal disappointment and general cynicism by talking about sex. It's eye-opening for her neighbor: BBBJs, dining at the Y, salad tossing, and, of course, Snap! But behind this teenager's jaded fantasies hides the very essence of heartbreak, acceptance, need, and desire...ironically paralleled by a broken man's desperate attempts to test the limits of her advertised promise to do anything and everything.
Trailer
About the director
Gorman Bechard is the author of the novels NINTH SQUARE, GOOD NEIGHBORS, THE SECOND GREATEST STORY EVER TOLD, and BALLS. Next up, a film adaptation of his first novel, THE SECOND GREATEST STORY EVER TOLD. He lives in New Haven, CT.
Notes
Director Gorman Bechard, Actors Jessica Bohl, Richard Brundage & Producer Frank Loftus will be available for Q&A after the screening.
Related links