1/1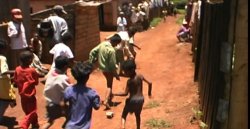 ---
THE BIG RACE
East Coast Premiere
United States, 2004, 5 min
Shooting Format:MiniDV
Festival Year:2005
Category:Documentary Short
Crew:Producer: Liz Do - Original Score: Genji Siraisi
Sales:Liz Do, Producer c/o Meta-Lingo, 473 4th Street, 3L - Brooklyn, NY 11215 - T: 718-260-9550 - F: 718 260-9550
Email:liz@meta-lingo.com
Synopsis
What do two boys in Madagascar do with a free day? Tulch and Noel, best friends with a day off from school, successfully illustrate that you don't need fancy toys or the latest technology to have some fun on a beautiful summer afternoon. Maybe all you need is a tin can and a little imagination.
About the director
Since graduating from film school at NYU, Phil has developed a visual style that often includes a mixture of live action, animation, stop-motion, still images, and design elements. He currently resides in Brooklyn, where he directs TV spots, music videos, documentaries and other projects for television through his production company, Meta-Lingo.
Notes
Director Phil Aupperle and Producer Liz Do will be available for Q&A after the screening.
Related links