1/1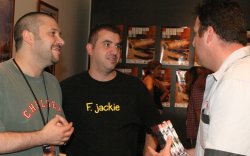 ---
BEYOND THE VISION
World Premiere
Director: Bruno Derlin & Mark Doyle
United States, 2005, 25 min
Shooting Format:DVCam
Festival Year:2005
Category:Documentary Short
Cast:Burt Young, Jaid Barrymore, Phil Sparks, The Other Guy, Will Keenan
Crew:Editor: Bruno Derlin - Cinematographer: Mark Doyle - Sound: Bruno Derlin
Sales:Bruno Derlin c/o Silo Digital & The Domani Vision Film Society, 1946 64th Street - Brooklyn, NY 11204 USA - T: 718.837.5736 - F: 718.837.1133
Email:silofilm@aol.com
Synopsis
Filmmakers Bruno Derlin and Mark Doyle combine event footage, miscellaneous film clips, and personal insight in a behind-the-scenes look at the history and realization of their NY-based film festival, VISIONFEST: THE OTHER FESTIVAL.
About the director
Bruno Derlin was born in Genoa, Italy. He moved to Brooklyn just in time for Jr. High and quickly developed a penchant for filmmaking, which he continued to explore at NYC's School of Visual Arts.
Mark Doyle is a Brooklyn native who learned most aspects of filmmaking by working hands-on on various productions. Together they founded and published GUERRILLA FILMMAKER magazine and are the co-founding directors of VISIONFEST: THE OTHER FESTIVAL.
Notes
Directors Bruno Derlin & Mark Doyle will be available for Q&A after the screening.
Related links