1/1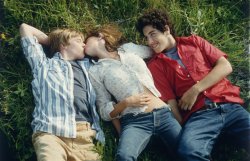 ---
STEAL ME
East Coast Premiere
Director: Melissa Painter
United States, 2004, 95 min
Shooting Format:35mm
Festival Year:2005
Category:Narrative Feature
Cast:Cara Seymour, Danny Alexander, Hunter Parrish, John Terry, Paz de la Huerta, Toby Poser, Chelsea Carlson
Crew:Screenwriter: Melissa Painter & Paul Ryan - Producers: Carl Colpaert & Lee Caplin - Co-Producer: Audrey Hall - Associate Producers: Paul Ryan, ASC & Carla Corwin - Cinematographer: Paul Ryan, ASC - Editor: Melissa Bretherton - Production Designer: Andrea Soeiro - Casting: Meg Mormam - Costume Designer: Courtney Hess - Composer: Jim Thomas of the Mermen
Sales:Tiffany Naiman c/o First Look Media, 800 Sunset Blvd., East Penthouse - Los Angeles CA 90046 - T: (323) 337 1000 - F: (323) 337 1078
Email:tnaiman@firstlookmedia.com
Synopsis
Jake is lost somewhere between boyhood and manhood, existing only on a strong instinct to survive. A loner and a thief, he is proud of his sexual prowess but doesn't have the maturity to cope with its consequences. Searching for the woman who has left him (again), he drifts into a small Montana town and falls in with Tucker, a local boy from a decent ranching family. At Tucker's insistence, his family feeds Jake and eventually takes him into their homes and into their lives. The family Jake comes to inherit is not so much naive as good-hearted. But is Jake up to the challenge of living a better life? In Steal Me, the cast works beautifully as an ensemble. The characters may seem humbled by the great western sky and sweeping panoramas, but they are solid at their core. It is refreshing to see rural America portrayed with such a modern lilt. Writer/director Melissa Painter has a keen eye for the gray area between good and bad. Are love and acceptance enough to turn around a damaged childhood? The characters in Steal Me may, in the end, seem an easy target for a boy like Jake, but he will never steal their greatest possessions - decency and family love.
Trailer
About the director
Melissa Painter attended NYU's Graduate Film Program. While there she was the associate producer of Lodge Kerrigan's "Clean, Shaven", and also of "The Incredibly True Adventure of Two Girls in Love". Her thesis film, "Jump" premiered at the New York Film Festival, and went on to Sundance. "Wildflowers" with Clea Duvall and Daryl Hannah, Winner SXSW 2000, was her first feature. "Admissions", with Lauren Ambrose and Amy Madigan is her second feature and will premiere on the Sundance Channel in June. "Steal Me" premiered at Sundance and will be released fall 2005.
Notes
Melissa Painter, Cara Seymour and Toby Poser will be available for Q&A after the screening.
Related links