1/1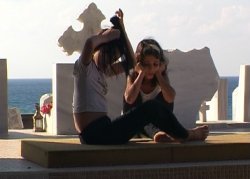 ---
SHOOTING DAYS
(Yemei Tzilum)
World Premiere
Director: Michal Kafra & Deva Melman
Crew:Editor: Arik Dor Davidovitch - Cinematographer: Deva Melman - Sound: Alex Cloude
Sales:Ruth Diskin c/o Ruth Diskin Films Ltd, 13 Diskin St. Suit 47 Jerusalem 96440, Israel - T: 972-2-5610094 - F: 972-2-5660718
Email:inforuth@netvision.net.il
Synopsis
In reality, a world without logic, all that is left is the ability to document the fleeting moments and people. Once a week, over a period of two years, the directors headed to the streets to watch the routine of life during war. In its coarse and watchful manner, the film introduces an impressionistic collection of small moments of existence. "Shooting days" is actually meditative view on life, the violent reality and human fight for survival.
About the director
Michal Kafra: Born 1958. Resident of Tel-Aviv, Israel. Graduate of the Tel-Aviv university department of Film and TV. Since 1985, a reporter for the Daily newspaper "Ma'ariv". Reportage - political and social agendas. 1994-2002 reporter for the 1st channel weekend magazine - Director of over a 100 extended cover stories in varies categories: culture, society and Current affairs.
Deva Melman is an independent documentary filmmaker that directs, shoots and produces his films. Graduated of the Film Dept. at the Tel-Aviv University .
Related links