1/1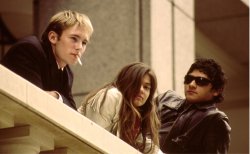 ---
FLIP A COIN
US Premiere
England, 2004, 97 min
Shooting Format:Super 16
Festival Year:2005
Category:Narrative Feature
Cast:Staten Eliot, Eglantine Rembauville, Fran Labbe, Cathy Barry, Tiggy Allen
Crew:Producer: Leon Flamholc - Screenwriter: Tom Papperskorgen - Editor: Andrew Philip - Cinematographer: Val Jaren - Original Score: Brendan Kersey & Kenneth Cosimo - Sound: Dave Hunt - Illustrations: Katrine Moe-Fitzgerald - Title Sequence: Marang
Sales:Leon Flamholc c/o Caravanfilm.co.uk ltd, Haybridge House unit 19, 15 Mount Pleasant Hill, London E5 9NB, United Kingdom - T: +44208 806 4297 - F: +44208 806 4297
Email:leon@caravanfilm.co.uk
Synopsis
An un-romantic comedy in "French Wave" style, set in modern East London. Philip and Casper, two flatmates in London's east end, flip a coin about most decisions in their lives, but mostly about women. Though Philip is the one to win the tosses, Casper is the one with the ladies. Philip silently blames Casper for his own aimless life, always being broke and never being able to pay the rent. But when beautiful French girl Marie enters their life, things drastically change and Philip is not prepared to let Casper play his cheap tricks this time. Marie was meant to rent Casper's room while he went to Spain for a week, but Casper misses his flight and soon the two friends stand head to head over love. Just before things get really serious Marie introduces the idea that they should rob the rich family for whom she works as an au-pair and run away with the money. All three of them, together. But in the house lures unpredictable danger...
Trailer
About the director
David Flamholc became the youngest film director to open with feature film in Sweden in -96. He went on to shoot Night Bus 807 - a controversial film about the murder of a racist which is counted as a classic. With Lithivm he won the Young Filmmaker's Award at the Hollywood Filmfest and subsequently relocated to London to start making films in English. In 2001 he started on the long jungle adventure which eventually resulted in HOUSE OF THE TIGER KING. David was also nominated for the European Academy Awards 2001 wit his short SVITJOD 2000+.
Notes
Director David Flamholc, Producer Leon Flamholc and lead actors Francisco Labbe & Staten Eliot will be available for Q&A after the screening.
Related links