1/1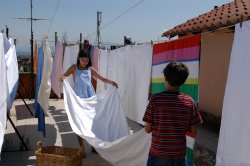 ---
LEO AND SANDRA
(Leo e Sandra)
East Coast Premiere
Director: Alessandro Celli
Italy, 2004, 7 min
Shooting Format:35mm
Festival Year:2005
Category:Narrative Short
Cast:Leonardo Alberigi, Sandra Bertucci, Caterina D'Asaro
Crew:Producers: Francisco Milone, Elda Ferri, Patrizio La Bella - Editor: Chiara Lionetti - Cinematographer: Maura Morales Bergmann - Original Score: Dario Di Gennaro, Giordano Scappucci - Sound: Giovanni Provenzale - Production Design / Costumes : Matteo Alberigi - Stills Photography: Carla Mori
Sales:Carla Mori c/o Blue Suede Shoots, Via Nemorense 18, 00199 Rome, Italy - F: +39 349 2415893
Synopsis
Leo is a very quiet boy who would like to introduce himself to his neighbour who studies on the opposite terrace.
About the director
Alessandro Celli is an Italian/Canadian film student who is in the final year of the MA program at the LONDON FILM SCHOOL. He Grew up in Rome (Italy) where he very soon developed an interest for visual storytelling. Well before shooting his first experimental films on camcorders, he had already focused on comic books with the idea of developing a graphic style. After graduating in Economics where he specialized in techniques for Marketing and Publicity, he worked for a year in TV Commercials. He then moved to attend film school in London, where he lived in for 2 years. He will be based in Rome where he has just finished editing his graduation film.
Notes
Director_Alessandro_Celli_will_be_available_for_Q&A_after_the_screening.
Related links