1/1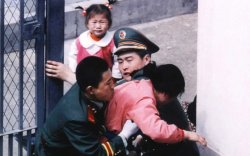 ---
SEOUL TRAIN
NY Premiere
Director: Jim Butterworth, Aaron Lubarsky & Lisa Sleeth
United States, 2004, 54 min
Shooting Format:DVCam
Festival Year:2005
Category:Documentary Feature
Crew:Producers: Lisa Sleeth & Jim Butterworth - Editor: Aaron Lubarsky - Sound: Zlatko Makic - Color: Will Cox - Original Music: David Harris
Sales:Jim Butterworth c/o Incite Productions Inc., 145 N Frontage Road W #C406 - Vail, CO 81657 - T: (917) 385-1024
Email:info@seoultrain.com
Synopsis
With its riveting footage of a secretive "underground railroad," SEOUL TRAIN is the gripping documentary expose' into the life and death of North Koreans as they try to escape their homeland and China. SEOUL TRAIN also delves into the complex geopolitics behind this growing and potentially explosive humanitarian crisis. By combining verite' footage, personal stories and interviews with experts and government officials, SEOUL TRAIN depicts the flouting of international laws by major countries, the inaction and bureaucracy of the United Nations, and the heroics of activists that put themselves in harm's way to save the refugees.
About the director
Jim Butterworth is a Producer and Director of Seoul Train, Founder and Principal of Incite Productions, as well as a technology entrepreneur. He founded and has led several successful companies, including an early Internet company and one of the top-performing venture capital funds of 1999-2002. He is also one of the pioneers in the development of streaming audio and video over the Internet. Seoul Train is his first film.
Lisa Sleeth is a Producer and Director of Seoul Train, Founder and Principal of Incite Productions, and a registered nurse specializing in high technology critical care and public health education. In addition to working in the intensive care unit at home, she has dedicated her career to providing humanitarian assistance, having participated in medical relief efforts on five continents, including the treatment of Kosovar refugees in Albania for the United Nations. She is highly skilled and experienced in working with NGO personnel, with refugees, and in unsecured, volatile areas. Seoul Train is her first film.
Aaron Lubarsky (Director and Editor of Seoul Train) is a critically acclaimed documentary filmmaker. In 2003, Aaron won the Prime Time Emmy for Outstanding Non-Fiction Picture Editing for HBO's Journeys With George. He is also the recipient of an IDA award and a student Academy Award, and his film Uncle Eugene won the Documentary Golden Gate Award at the San Francisco Film Festival. Aaron holds a bachelor's degree in Political Science and a master's degree in Documentary Film Production from Stanford University, and also worked as an editor at LucasFilm.
Notes
Lisa Sleeth, Jim Butterworth, and Aaron Lubarsky will be available for Q&A after the screening.
Related links