1/1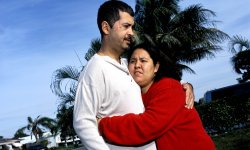 ---
PURPLE HEARTS
US Premiere
Director: Roel van Broekhoven
Netherlands, 2004, 80 min
Shooting Format:DigiBeta
Festival Year:2005
Category:Documentary Feature
Crew:Research: Gijs Meyer Swantee & Nina Berman - Editor: J.P. Luijsterburg - Cinematographer: Jacko van 't Hoff - Original Score: - Sound: Rik Meier - Producer: Doke Romeijn - production: Madeleine Somer & Karin Spiegel
Sales:Kaisa Kriek c/o NPB Sales, P.O. BOX 26444, 1202 JJ Hilversum The Netherlands - T: +31.35.6773561 - F: +31.35.6775318
Email:kaisa.kriek@omroep.nl
Synopsis
The film tells the story of 5 young American soldiers who were badly wounded in the Iraq war. Back from Iraq they try to rebuild their lives. Suprisingly, they all share the same dream of going back into the army. An army that doesn't need them anymore. Based on photographs by Nina Berman.
About the director
Roel van Broekhoven (1950) works since 1975 for the Dutch Public VPRO radio and television. As staff editor/director he travelled all around the world making documentaries and tv series on international issues.
Notes
Director Roel van Broekhoven will be available for Q&A after the screening.
Related links