1/1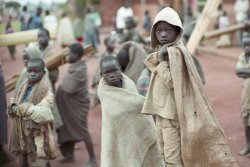 ---
LOST CHILDREN
(Verlorene Kinder)
East Coast Premiere
Director: Ali Samadi Ahadi & Oliver Stoltz
Crew:Producer: Oliver Stoltz - Editor: Ali Samadi Ahadi - Cinematographer: Maik Behres - Original Score: Ali N.Askin - Sound: Jens Schwarzburg - Commissioning Editor: Sabine Rollberg (ARTE/WDR)
Sales:Wolfram Skowronnek c/o Telepool GmbH - Sonnenstr. 21 80331 Munich, Germany - T: +49-89-55876-0
Email:skowronnek@telepool.de
Synopsis
For over 18 years the civil war in north Uganda started - nearly unnoticed by the world's public. The rebels of the LRA (Lord's Resistance Army) are waging a bloody guerilla war, abducting children and forcing them to kill as soldiers among their own people. "Lost Children" is a documentary film of four children aged between 8 and 14, who successfully escaped. They return home to be branded as killers. Will they ever forget, will they be forgiven ? Can you be a child again after you have been a soldier? Ali Samadi Ahadi and Oliver Stoltz visited the war zone in north Uganda for four times, to observe children who have escaped the bush camps of the rebels to see what happens when they try to reintegrate into their clans again. Because both directors were confronted with war during their childhoods, they have purposely chosen the children`s_perspective_to_tell._Before_finishing_the_filmshooting,_the_filmmakers_founded_the_project_www.pajule-aid.org,_in_order_to_ease_some_of_the_hardship_for_the_people.
About the director
Oliver Stoltz was born in 1969 in Bonn. When he was 13 years old, he lived in Namibia during the civil war and the every day life consisted of assaults, robberies and abductions of entire school classes by the Swapo. He studied film at the HFF "Konrad Wolf" and took his MFA in "Motion Picture Producing" in the "Peter-Stark-Programme" at the USC in Los Angeles. "Lost Children" is Oliver Stoltz's debut as author and director.
Ali Samadi Ahadi was born in 1972 in Azerbaijan / Iran. During the Iran-Iraq war Ali was trained, as many other children in Iran, as a soldier and learnt how to fight. When he was 12 years old, he escaped alone from home to avoid the mere death in the war. He arrived in Germany without his family. Kassel Ali Samadi graduated in Visual Communication, film and TV being his major. "Lost Children" is his debut as author and director.
Related links