1/1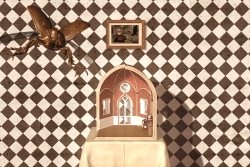 ---
THE CHAMBER
US Premiere
Korea, 2005, 5 min
Shooting Format:MiniDV
Festival Year:2006
Category:Animation
Sales:Korea Independent Film Distribution Company - Seoul, Korea - T: +82 2 7226051 - F: +82 2 722 6055
Email:indiestory@indiestory.com
Synopsis
With sound of knock, an old guy who looks like a salesman comes into an empty room. When he sees a miniature house in the room, he puts his hand into the house with curiosity. Then, he realizes that there is another path in it.
About the director
Yu Seock hyun (1979) studied Industrial Design at Hanyang University and lives in Seul.
Notes
Director Yu Seock hyun will be available for Q&A after the screening.
Related links