1/1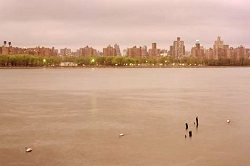 ---
THE SWAN
US Premiere
United States, 2005, 13 min
Shooting Format:MiniDV
Festival Year:2006
Category:Narrative Short
Crew:Original Score: Dorit Chrysler
Sales:Nin Brudermann - Brooklyn NY
Email:nin@thing.net
Synopsis
An intimate miniature of an urban fable that unfurls in front of the artist's window upon the unexpected arrival of a beautiful and stubborn swan in New York's East River. Slowly adjusting to his new industrial habitat, the swan fights off speeding coast guard boats, ducks away on the sight of helicopters, and wonderfully overcomes his loneliness. As in so many of Brudermann works, drama and comedy, real and surreal are inherently interconnected. She conjoins the video projection with two live performances. Dorit Chrysler's Theremin composition adds musical counterpoints, while Brudermann's narration of her swan story (opting for a playful fairy-tale language) toys with the relationship of what we see and hear.
About the director
Nin Brudermann is an Austrian artist, who lives and works in New York, where she came as a participant in the International Studio Program at PS1- MOMA, NY in 1996. In her artistic investigations she interfaces absurd realities and unexpected personal encounters. Her stories are told in a variety of mixed media - text, video, sound, drawing, photography, installation - often vacillating between documentary, performance and fantasy. She has shown in several venues in the U.S. and Europe, and has taken part in numerous group shows and film festivals, such as Art Chicago Projectspace, Kunsthalle Wien Projectspace and Museumsquartier, and has participated with Makrolab in the Individual Systems Section of the 2003 Venice Biennale. Her most recent solo show in the U.S. was at Priska C. Juschka Fine Art in New York in 2005.
Notes
Director Nin Brudermann will be available for Q&A after the screening.
Related links