1/1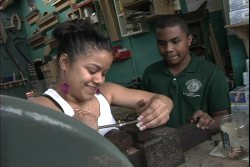 ---
MADE IN THE BRONX
East Coast Premiere
Director: Stephen Dypiangco
Cast:Edmanuel Roman, Adam Green, Noel Candelario, Joshua Gonzalez
Crew:Cinematographer: Jae-Ho Chang
Sales:Stephen Dypiangco, Brooklyn, NY - T: 213-458-1770
Email:dypiangs@yahoo.com
Synopsis
In the middle of the Bronx, a group of inner-city teenagers learn how to succeed by working together to create something extraordinary.
About the director
A Filipino-American born and raised in Los Angeles, Stephen Dypiangco moved to the East Coast to serve with the Jesuit Volunteer Corps. As a volunteer, he lived in Camden, NJ, the country's most violent city, and he worked with migrant farmworkers in neighboring Pennsylvania. Living and working amid unjust urban and rural conditions has motivated Stephen to make socially conscious films. Stephen is a graduate film student at NYU and lives in Brooklyn, NY.
Notes
Director Stephen Dypiangco will be available for Q&A after the screening.
Related links